The Cattle Dog That Could
08/27/2019
Meet 11-year-old "Skoal," an Australian Cattle Dog who has wowed crowds at national-level agility events, including the 2019 AKC Agility Cup presented by EEM, thanks to his trainer, owner…and great care.
When Joni Huff first laid eyes on her 9-week-old Australian Cattle Dog pup 11 years ago, she had no idea he'd not only be her first AKC Champion, but also would earn top spots in AKC national-level agility events.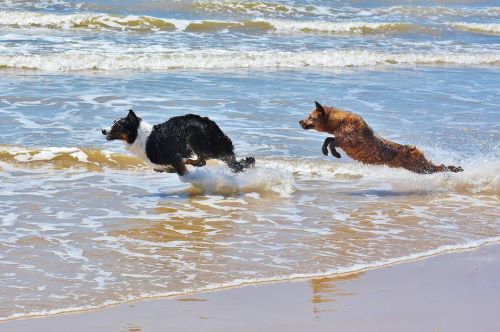 She also couldn't know that he'd help her friend, Martine Kopka, reach new heights in her own agility career—and help motivate Martine during a tough cancer battle. Joni, who owns J-Canine Pet Resort in Rosenberg, Texas, smiles when she thinks back to the first time she saw Skoal.

"He was what I'd call a 'dirt-road' dog," she chuckles. "My nephews had a dairy farm in Arizona, and owned his mom, Booster. I loved her. She was a sweet, smart, and super-athletic working farm dog. Even though I'd always had Dobermans, she made me want a Cattle Dog.

"I told them if she had a litter with a male, I wanted him," she recalls. Booster delivered a red male in May 2008. Joni picked him up and brought him home to Texas.

"He was a lot of dog, even as a puppy," says Joni. "He was a little red bundle of dynamite."
Martine, who'd recently traded her vocation, real estate, for her avocation, dog training, had just started working at J-Canine. She began to help Joni work with Skoal, to channel the young dog's energy in a positive way.
Fate Steps In
Neither Joni nor Martine had an agility agenda for him back then. After all, Cattle Dogs are an uncommon sight in the agility ring. "I worked with Joni to help socialize Skoal," says Martine. "I also started trick training with him, to teach him how to learn. I was just starting to train dogs. Neither of us had any expectations. We just wanted to use positive training to show him how to be a good dog." The months passed. Skoal soon eased into his own "job" at the kennel: Martine began using him to help socialize other canine students. "He's always been great with other dogs, and he needed a job," explains Martine.

He was neutered at about 8 months of age, a decision both Joni and Martine now regret. "We neutered him before we knew what we had," laments Martine.

Once he healed, Joni began taking him to agility classes Martine taught at J-Canine. "I was just taking him for fun—and to help wear him out," she laughs. "I learned real quick that Skoal was way too fast and way too smart for me."

Then fate stepped in: Martine's top agility dog, a Border Collie bitch named Gilley, suffered an injury. Says Joni, "I thought Skoal had a lot of natural ability. I knew I didn't have the time or talent to help him reach his potential. When Gilley got hurt, I thought, 'Why not see if Martine wants to take him on?'"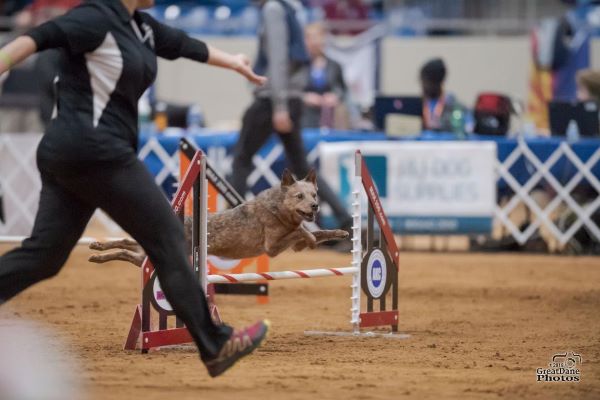 She did. Skoal was about 18 months old when Martine began serious agility work with him. Still, given his breed, she kept her expectations low. "He was very bright," she recalls. "But he was a bit wild and lacked focus."

Martine's goal was simple: "I wanted Skoal to have fun and stay relaxed. I ran him some early on, and he'd get over-aroused by all that was going on. So, in the ring he'd pay attention to everything but me.

"But he always wanted to solve the puzzle," she says. "He wanted to be good. I think that goes back to the positive reinforcement we gave him in his early training."

In 2010, Joni got her "dirt-road dog" an AKC PAL (Purebred Alternative Listing) registration. He was then eligible to be entered in AKC events. Over the next few years, he and Martine began to compete more regularly.

"When he hit 3 years of age," she says, "the light bulb went on. He started to focus more on me, and less on the environment." The pair continued to hone their skills in the agility ring, while continuing their work at Joni's kennel.

Then fate stepped in once more: In April 2013, Martine was diagnosed with Stage 3 endometrial cancer.
Running With A Purpose
"It was, naturally, a huge life shock," she says quietly. "Skoal was a big motivator for me to get well. He kept my mind off my cancer through surgery, then six weeks of radiation followed by major chemotherapy."

Her recently adopted agility community rallied. "I was relatively new to the agility world back then. But that community helped me raise money for my treatment at M.D. Anderson in Houston," she recalls. "Agility people are amazing."

The diagnosis sharpened her focus on the sport. "After I got sick, I became driven by a different purpose: agility became my passion. Skoal, my dogs, and the agility folks gave me a reason to get out of bed every day and move.

"I kept running Skoal while I was on chemo," she recalls. "There are lots of videos of me running with a bald head! I had to take a lot of breaks when we ran, but we never stopped running or training. I learned during that time that I want to do it, and to win. So does Skoal. And Joni, I think, let me keep running him to help me keep going."

As Martine's health improved, so did her and Skoal's achievements. "He really turned on as an agility dog in 2014," says Martine. "Our patience in allowing him to mature at his own pace, so he could learn to handle new environments, paid off."

The pair began racking up regional agility titles. As the years passed, the 30-pound Cattle Dog started to beat the competition. A lot. (Martine was also running her own Border Collies. And winning. A lot.)

"The only errors Skoal made were due to me," she says. "He taught me that I had to give him all the info he needs in the ring to know exactly where he's going. When I learned that, he started putting in times that beat Border Collies. He's fast. He's clean. He became so consistent that people expect it of him."

In March 2018, Skoal was Reserve P1-12-Inch Champion at the AKC National Agility Championship (NAC) in Reno, Nevada. In March of this year, Skoal and Martine were third in their division at the AKC NAC in Tulsa, Oklahoma. On the heels of that finish, the pair was invited to the inaugural AKC Agility Cup (APC) Presented by EEM. The event, held April 25 in New York City, New York, was an invitational, open only to top agility competitors and their handlers. A total of 12 dogs were entered at each jump height, competing for $10,000 in cash prizes.

Martine packed up Skoal and drove to New York from Texas. The results were worth the drive: In the 16-inch division, Skoal and Martine were reserve to the top agility dog in the country, a Border Collie named "Pink."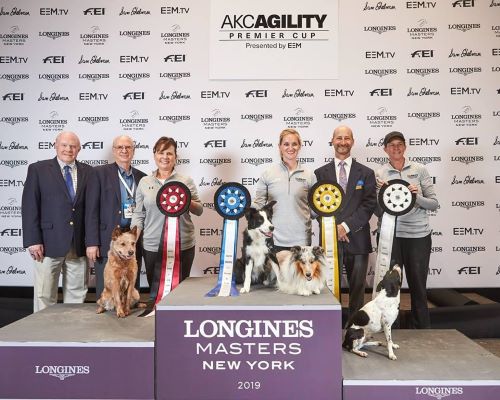 "It was incredible to be invited to the Agility Cup," says Martine. "It was an amazing experience--the AKC treated us like royalty." It was also daunting. "Skoal was competing with dogs he's never beaten," explains Martine. "I didn't expect to make the finals, much less to get on the podium! He ran against some of the best in the sport—there were dogs there from world-championship teams. "I just wanted the crowd to see how much he loves it," she says. "He starts each run barking, because he just wants to go. He fed off the crowd in New York—he heard them roar for him, the little red Cattle Dog, and ran faster. He ended each run grinning from ear to ear. Then he sought me out at the end, and jumped into my arms."

Martine says she never got nervous. "I never feel pressure. All I can control is showing him where to go. I always go for it, and so does he. We know each other so well now. You have to believe your dog is a champion, so he believes he's a champion. Skoal belonged there." While Joni was able to get to Reno and Tulsa to watch, she couldn't leave her kennel long enough to get to New York City. "I had to watch online—it was heart-stopping," she recalls. "To see them in the finals was just amazing. I was so happy for Martine! There she was in New York with a dairy-farm-bred Cattle Dog, running against some of the best in the game. I just kept pinching myself."

Joni and Martine are mindful of Skoal's age as they plan the rest of the year for him. "We're being choosey about where we'll run him," says Martine. "We want to keep him healthy and happy. He's 11, so we're winding down for the year. We want him to go out on top." (For information on how they keep Skoal fit and healthy, see "Skoal's Care Regimen," below.) For Joni, Skoal's success is secondary to his role as her farm dog—and pet. "He lives with me when he's not at an event with Martine. He goes to the kennel with me every day. I just love him, even though he can be a Dennis the Menace at times! I think I'll always have a Cattle Dog in the house. I love their compact size and athleticism." Adds Martine, "Joni doesn't care if he wins. She loves seeing him run. She's a great boss and friend, and has been so supportive. Skoal is special. He has that extra something that makes a dog great. I appreciate every day I get to be with him. I no longer take anything in life for granted. I know how fast it all can change."
Skoal's Care Regimen
"We pay close attention to his overall soundness, fitness, and well-being," says Martine. "If he shows any sign of soreness, I won't run him. I also do a thorough warm up with him before each run, and a long cool down afterward."

She adds, "Plus, I space out his events, to maximize his longevity."

In addition to routine veterinary care, his maintenance routine includes:
Adequan® injections, to help maintain joint health
Trigger-point therapy and acupuncture, to help alleviate muscle soreness
Chiropractic work
Massage therapy
"Skoal is a naturally active dog," says Martine, "so keeping him fit is easy. Joni swims him, and he works on her farm. He knows his agility job, so I don't have to train on him. I'll just practice a bit with him right before a major event."
Martine says Skoal's size and conformation are assets when it comes to longevity. "He's very well built," she explains. "He's compact and super balanced. With that build, he can handle impact better than a dog that lacks balance, especially a larger dog."
AKC Canine Health Foundation Supports Canine Athletes
AKC Canine Health Foundation (CHF) funded research supports not only agility dogs' health, but also that of their owners and trainers, regardless of what level at which you compete. Dogs and humans can get many of the same types of injuries—and many of the same types of cancers.
The similarities have sparked joint research efforts between the veterinary and medical fields, collectively known as "One Health."
"Dogs live so closely with their people, sharing their environments, and even beds," explains Dr. Diane Brown, Chief Executive Officer and Chief Science Officer of AKC Canine Health Foundation (akcchf.org). "We recognize the importance of the health issues they share with us, too, and support learning from one another. Advancements in human health often translate to canine health. Likewise, advancements in canine health can translate to human health. It just makes sense."
Current CHF-funded research includes:
For more information on these studies and other CHF-funded research, and for information on how you can help, go to akcchf.org.
Help Future Generations of Dogs
Participate in canine health research by providing samples or by enrolling in a clinical trial. Samples are needed from healthy dogs and dogs affected by specific diseases.