About the Hemangiosarcoma Research Initiative
---
Hemangiosarcoma is an aggressive and common cancer in dogs. It can develop in any tissue or organ, but most commonly affects the spleen, right atrium of the heart, and the skin.
Since 1995, CHF and its donors have invested over $4.8 million in 33 grants in understanding mechanisms and causes, new targets for treatment, and early diagnostics for canine hemangiosarcoma, an aggressive cancer in dogs. CHF, along with its donors, continues to address this devastating disease through this initiative launched in 2018.
$4.8M invested in hemangiosarcoma research since 1995.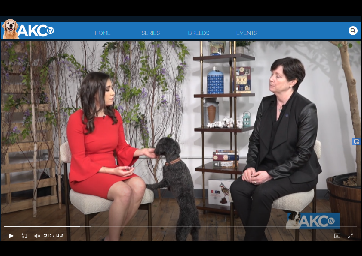 Why Study It?
While cutaneous masses (affecting the skin) are often treatable by tumor excision, tumors affecting internal organs are associated with poorer prognosis and are almost always incurable.
Hemangiosarcoma is often called the "silent killer" because the tumors are often not detected until the later stages of the disease, and even dogs harboring large tumors may show no clinical signs or evidence that they have a life threatening disease.
Existing treatments have not improved the overall survival times for dogs with this disease.
Our Progress So Far
---
Current CHF-Funded Studies
The AKC Canine Health Foundation (CHF) believes in the advancement of science to meet the unmet medical needs of the dogs that are such an important part of our daily lives. Here we list the important active studies in this research program area.
Webinars
See what Douglas H. Thamm, VMD, DACVIM (Oncology) has to say about cancer prevention as well as what we know about the connection between the use of vaccines, flea, tick and heartworm preventatives and cancer risk in dogs here.

Douglas H. Thamm, VMD, DACVIM (Oncology) updates us on his hemangiosarcoma research, presenting on the clinical presentation, staging, therapy and prognosis in canine hemangiosarcoma. He also talks about his recent findings about the biology of the disease, and early diagnosis and new treatment strategies here.
Articles
Publications
Researchers awarded grants through CHF continue to produce a wealth of publications contributing to scientific knowledge. These scientific articles, grouped by publication date, are a result of CHF-funded hemangiosarcoma research!
Akhtar, N., Padilla, M. L., Dickerson, E. B., Steinberg, H., Breent, M., Auerbach, R., & Helfand, S. C. (2004). Interleukin-12 Inhibits Tumor Growth in a Novel Angiogenesis Canine Hemangiosarcoma Xenograft Model. Neoplasia, 6(2), 106–116. https://doi.org/10.1593/neo.03334
Fosmire, S. P., Dickerson, E. B., Scott, A. M., Bianco, S. R., Pettengill, M. J., Meylemans, H., Padilla, M., Frazer-Abel, A. A., Akhtar, N., Getzy, D. M., Wojcieszyn, J., Breen, M., Helfand, S. C., & Modiano, J. F. (2004). Canine malignant hemangiosarcoma as a model of primitive angiogenic endothelium. Laboratory Investigation, 84(5), 562–572. https://doi.org/10.1038/labinvest.3700080
How to Get Involved
---
Thank you to the Sponsors of the Hemangiosarcoma Research Initiative!
Champion Sponsors ($50,000+)
| | | |
| --- | --- | --- |
| | | |
| | | |
Sponsors ($2,500+)
Alaskan Malamute Club of America, Inc.

Alice's Fund/Michael Heltzer
American Belgian Tervuren Club, Inc.
American Bloodhound Club

American Bullmastiff Association

American Pointer Club

Australian Shepherd Health & Genetics Institute, Inc.
Australian Terrier Trust

Basset Hound Club of America, Inc.
Bedlington Terrier Club of America
Bernese Mountain Dog Club of America


Bouvier Health Foundation

Briard Club of America Health & Education Trust

Chesapeake Kennel Club of Maryland, Inc.

Chinese Shar-Pei Charitable Trust

Chinese Shar-Pei Club of America, Inc.
Clumber Spaniel Health Foundation

Dachshund Club of America, Inc.

Deuces Legacy

Effie and Friends

Field Spaniel Society of America

Flat-Coated Retriever Foundation

French Bulldog Club of America

Friends of Karoo, Murray, and Layla

Golden Retriever Club of San Diego County

German Shorthaired Pointer Club of America, Inc.

German Wirehaired Pointer Club of America

Gordon Setter Club of America, Inc.

Great Dane Club of America

Great Pyrenees Club of America

Health & Rescue Foundation of the Petit Basset Griffon Vendeen Club of America

Irish Setter Club of America Foundation, Inc.

Irish Setter Club of Milwaukee

Irish Wolfhound Club of America, Inc.

Keeshond Club of America

Labrador Retriever Club, Inc.

Leonberger Health Foundation
Master National Retriever Club Foundation

Miranda Fund

National Beagle Club

Nespola Charitable Foundation
Newfoundland Club of America Charitable Trust

Norwegian Elkhound Association of America, Inc.

Otterhound Club of America

Poodle Club of America Foundation
Rottweiler Health Foundation
Saluki Health Research, Inc.

Scottish Terrier Club of America Health Trust Fund

SCWTCA Endowment, Inc.

Tibetan Terrier Club of America/Tibetan Terrier Health & Welfare Foundation

Versatility in Poodles, Inc.

Vizsla Club of America Welfare Foundation

Weimaraner Foundation Fund Corporation
Help Future Generations of Dogs
Participate in canine health research by providing samples or by enrolling in a clinical trial. Samples are needed from healthy dogs and dogs affected by specific diseases.