About the Epilepsy Research Initiative
---
The AKC Canine Health Foundation (CHF) identified the need to better understand epilepsy in dogs with the launch of the Epilepsy Research Initiative. New studies that translated results from the research lab to the veterinary clinic were sought in 2014 in a collaborative response to donors, dog owners and the veterinary community impacted by canine epilepsy. In 2017, an initiative matched-funding challenge furthered CHF's ability to support innovative research leading to better understanding of epilepsy and more effective treatments. The Epilepsy Research Initiative continues today to equip dog owners and veterinarians with the latest educational resources and further cutting-edge canine health research for this devastating condition.
Epilepsy affects one in every 100 dogs (Heske L, Nodvedt A, Jaderlund KH, Berendt M, Egenvall A. A cohort study of epilepsy among 665,000 insured dogs: incidence, mortality and survival. 2014. Vet J; 202:471-6) and refers to recurrent seizures resulting from an abnormality in brain function. The condition can be inherited (genetic epilepsy), caused by structural problems in the brain (symptomatic epilepsy), or may be of unknown cause (idiopathic epilepsy). Determination of the appropriate treatment for canine epilepsy, as well as prognosis for the condition, depends on accurate diagnosis of the type and cause of seizures.
Since 1995, CHF and its donors have invested more than $2.8 million in 42 grants to study canine epilepsy. Ongoing studies are exploring the use and effects of dietary supplements in the treatment of canine epilepsy, underlying genetics and disease mechanisms, and the role of the gastrointestinal tract and microbiome in the development and treatment of this disease.
$2.8M invested in epilepsy research since 1995.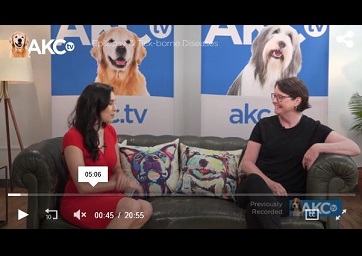 Why Study It?
Epilepsy is the most common medical neurological disorder in dogs
Despite the development of new anti-epileptic drugs, many dogs' seizures remain uncontrolled using currently available therapies
Knowledge gained may also improve our understanding of human epilepsy
Understanding the mechanisms of anti-epileptic drug resistance may lead to more successful seizure management
New treatment strategies may help dogs whose disease is uncontrolled by currently available therapies and those who cannot tolerate the side effects of current anti-epileptic drugs
Identification of genetic risk factors may enable breeders to select against such factors and help owners of affected dogs make lifestyle and treatment decisions that improve their dog's quality of life
Our Progress So Far
---
Current CHF-Funded Studies
The AKC Canine Health Foundation (CHF) believes in the advancement of science to meet the unmet medical needs of the dogs that are such an important part of our daily lives. Here we list the important active studies in this research program area.
| | |
| --- | --- |
| 02323 | Efficacy of Cannabidiol (CBD) for the Treatment of Canine Epilepsy |
| 02566 | Genetics of Idiopathic Epilepsy in Labrador Retrievers |
| 02252 | Investigating a Ketogenic Medium-Chain Triglyceride(MCT) Supplement for the Treatment of Drug-Resistant Canine Idiopathic Epilepsy and Its Behavioral Comorbidities |
| 02248 | Identification of a Novel Juvenile Myoclonic Epilepsy Gene and Its Underlying Disease Mechanism |
| 02249-A | Studying the Role of the Gastrointestinal Tract in Canine Epilepsy |
| 02257 | Identification of Genetic Risk Factors for Canine Epilepsy |
| 02131 | Neurostimulation: A Groundbreaking New Treatment for Canine Epilepsy |
| 02133 | Canine Epilepsy: Genetic Variants, Biomarkers, and New Therapies |
Resources

Articles
Publications
Researchers awarded grants through CHF continue to produce a wealth of publications contributing to scientific knowledge. These scientific articles, grouped by publication date, are a result of CHF-funded epilepsy research!
Patterson, E. E., Mickelson, J. R., Da, Y., Roberts, M. C., McVey, A. S., O'Brien, D. P., Johnson, G. S., & Armstrong, P. J. (2003). Clinical Characteristics and Inheritance of Idiopathic Epilepsy in Vizslas. Journal of Veterinary Internal Medicine, 17, 319–325. https://www.ncbi.nlm.nih.gov/pubmed/12774973
Oberbauer, A. M. (2003). The Genetics of Epilepsy in the Belgian Tervuren and Sheepdog. Journal of Heredity, 94(1), 57–63. https://doi.org/10.1093/jhered/esg010
Licht, B. G., Licht, M. H., Harper, K. M., Lin, S., Curtin, J. J., Hyson, L. L., & Willard, K. (2002). Clinical presentations of naturally occurring canine seizures: Similarities to human seizures. Epilepsy & Behavior, 3(5), 460–470. https://doi.org/10.1016/S1525-5050(02)00523-1


How to Get Involved
---
Thank you to the Sponsors of the Epilepsy Research Initiative!
Champion Sponsors ($50,000+)
Sponsors ($2,500+)
Alaskan Malamute Club of America
American Belgian Tervuren Club, Inc.
American Brittany Club
American Cavalier King Charles Spaniel Club Charitable Trust
American Chesapeake Club Charitable Trust
American Chinese Crested Club
American German Shepherd Dog Charitable Foundation, Inc.
American Miniature Schnauzer Club
American Pointer Club
American Shetland Sheepdog Association
American Spaniel Club Foundation
Australian Shepherd Health & Genetics Institute
Bichon Frise Club of America, Inc.
Border Terrier Club of America
Border Terrier Club of America Health and Scholarship Foundation
Boston Terrier Club of America
Central Wisconsin Vizsla Club
Chihuahua Club of America
Embark Veterinary, Inc.
English Springer Spaniel Field Trial Association Foundation
English Springer Spaniel Foundation
Field Spaniel Society of America
French Bulldog Club of America
Friends of the Cane Corso, International Cane Corso Federation, and Cane Corso Association of America
German Shorthaired Pointer Club of America
Giant Schnauzer Club of America
Gordon Setter Club of America
Great Dane Club of America


Greater Swiss Mountain Dog Club of America
Greyhound Club of America
Health & Rescue Foundation of the Petit Basset Griffon Vendeen Club of America
Irish Setter Club of America Foundation, Inc.
Irish Wolfhound Club of America
Irish Water Spaniel Club of America
Keeshond Club of America
Labrador Retriever Club, Inc.
Mastiff Club of America Charitable Trust
Miniature Pinscher Club of America, Inc.
National Beagle Club
Norwegian Elkhound Association of America, Inc.
Orthopedic Foundation for Animals
Otterhound Club of America
Pawtucket River Labrador Retriever Club
Piedmont Border Collie Association
Poodle Club of America Foundation
Portuguese Water Dog Foundation
Rhodesian Ridgeback Charitable Foundation
Rhodesian Ridgeback Club of the United States
Saint Bernard Club of America and Charitable Foundation
Suzanne Stone & Paul Miles
Siberian Husky Club of America, Inc.
Tibetan Terrier Club of America
Toby's Foundation
United States Australian Shepherd Association
United States Australian Shepherd Foundation/USASA
Vizsla Club of America & Vizsla Club of America Welfare Foundation
Help Future Generations of Dogs
Participate in canine health research by providing samples or by enrolling in a clinical trial. Samples are needed from healthy dogs and dogs affected by specific diseases.