About the Tick-Borne Disease Research Initiative
---
The AKC Canine Health Foundation (CHF) Tick-Borne Disease Research Initiative was created in 2016 to address the growing threat of tick-borne disease to canine and human health. Disease occurs when ticks infected with a pathogen directly bites a dog or human and transmit the pathogen into the body. Many tick-borne pathogens infect dogs and can also infect humans. The geographic distribution of ticks is spreading and can change yearly by season and region of the United States. CHF is taking a One Health action to address the prevalence, diagnosis, and treatment of tick-borne disease. The most important tick-borne diseases of dogs are Ehrlichiosis, Anaplasmosis, Rocky Mountain spotted fever, Hepatozoonosis, Babesiosis, Bartonellosis, Hemotropic Mycoplasmosis, and Lyme disease. All can have serious health consequences, and infection rates have been on the rise over the past five years. The feeding time required for disease transmission from a tick to a dog or person can be as little as 3 – 6 hours!
Since 1995, CHF and its donors have invested more than $1.1M in 16 grants to study tick-borne disease. Current grants explore better methods to detect tick-borne diseases and recognize new pathogens, plus improve our understanding of how ticks locate dog hosts and how the canine immune system responds to tick-borne infections.
$1.1M invested in tick-borne disease research since 1995.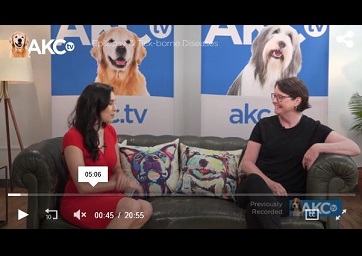 Why Study It?
The geographical range of tick species in North America is expanding
The incidence of tick-borne diseases reported in dogs and humans continues to rise
To understand why some infected dogs remain asymptomatic, while others develop life-threatening illness
Dogs infected with tick-borne disease agents can act as sentinels for the same diseases in people
Accurate diagnosis of co-infections (simultaneous infection with multiple vector-borne organisms) will facilitate early and comprehensive treatment
Understanding which immune cells are responsible for the successful cure of a tick-borne infection may provide a target for treatment in all infected dogs
Prevention is key for tick-borne disease; Strategies to improve tick control will improve the health of dogs and humans living in at-risk areas
Our Progress So Far
---
Current CHF-Funded Studies
The AKC Canine Health Foundation (CHF) believes in the advancement of science to meet the unmet medical needs of the dogs that are such an important part of our daily lives. Here we list the important active studies in this research program area.
| | |
| --- | --- |
| 02983 | Enhanced Detection and Characterization of Spotted Fever Group Rickettsia Species in Dogs and Ticks with Focus on a Novel Rickettsia Species Infecting Clinically Ill Dogs in the U.S. |
| | |
| --- | --- |
| 02981 | Genome-wide Identification and Characterization of Peptide Epitopes from Ehrlichia canis and Anaplasma platys with Potential to be Used as Vaccine Candidates |
| | |
| --- | --- |
| 02819 | Identification of Bartonella henselae In Vivo Induced Antigens for Development of a Reliable Serodiagnostic Assay for Canine Bartonelloses |
| | |
| --- | --- |
| 02528 | Developing a Next Generation Sequencing Diagnostic Platform for Tickborne Diseases |
| 02553 | Targeted Next Generation Sequencing Panel for Comprehensive Testing of Vector-borne Pathogens |
| 02386-A | Surveillance of Hepatozoon americanum in Populations of the Gulf Coast Tick |
| 02383 | Identifying Cellular Mechanisms of Inflammation During Canine Tick‐Borne Diseases |
| 02292 | Broad-Range Detection of Canine Tick-Borne Disease and Improved Diagnostics Using Next-Generation Sequencing |
| 02287 | Enhanced Testing for the Diagnosis of Bartonellosis in Dogs |
| 01780 | Defining the Mechanism by Which Ticks Locate Dogs in Order to Better Prevent Disease Transmission |
| 02295-A | The Role of Lymphocytes in Canine Monocytic Ehrlichiosis |
| 02285-A | Thrombocytopenia and Occult Vector-Borne Disease in Greyhound Dogs: Implications for Clinical Cases and Blood Donors |
| 02284-A | Lyme Disease in Dogs: Prevalence, Clinical Illness, and Prognosis |
Resources

Webinars:

Fleas, Ticks, What's the Difference? Dr. Chris Adolph, DVM, MS, DACVM (Parasitology), Veterinary Specialist, CAD Veterinary Specialty Operations, Zoetis Animal Health
Tick Borne Infectious Diseases in North America: Clinical and Zoonotic Implications; Dr. Edward B. Breitschwerdt, DVM, DACVIM, Professor of Medicine and Infectious Diseases, College of Veterinary Medicine, NCSU

Podcast: Dr. Diane Brown, CHF CEO, spoke with Pure Dog Talk in 2018 for this podcast on Researching Connections Between Ticks and Cancer. Listen to the podcast here.

Center for Disease Control and Prevention: Ticks

Pet Health Network: Keep your dog safe from tick-borne disease. Learn about the ticks and diseases in your area from the Pet Health Network.

Associated publications:
Articles
Publications
Researchers awarded grants through CHF continue to produce a wealth of publications contributing to scientific knowledge. These scientific articles, grouped by publication date, are a result of CHF-funded tick-borne disease research!
How to Get Involved
---
Thank you to the Sponsors of the Tick-Borne Disease Research Initiative!
Champion Sponsors ($50,000+)
Sponsors ($2,500+)
Afghan Hound Club of America, Inc.
Alaskan Malmute Club of America, Inc.
American Brittany Club
American Boxer Charitable Foundation
American Chesapeake Club Charitable Trust
American Field Pointer Association
American Field Setter Association
American Pointer Club
American Shih Tzu Club Charitable Trust
American Shih Tzu Club, Inc.
American Whippet Club, Inc.
Andrew Kirsner
Australian Terrier Club of America
Basset Hound Club of America
Bearded Collie Club of America
Border Terrier Club of America
Bull Terrier Club of America
Clumber Spaniel Health Foundation
Cyclone County Kennel Club of Ames, Inc.
Eastern German Shorthaired Pointer Club, Inc.
English Setter Association of America, Inc.
Field Spaniel Society of America
German Shorthaired Pointer Club of America, Inc.
Golden Retriever Foundation
Gordon Setter Club of America, Inc.
Great Pyrenees Club of America
Greater Swiss Mountain Dog Club of America, Inc.
Greyhound Club of America
Health & Rescue Foundation of the Petit Basset Griffon Vendeen Club of America
Irish Setter Club of America Foundation, Inc.
Irish Wolfhound Club of America, Inc.
Keeshond Club of America,
Labrador Retriever Club, Inc.
LEAP Agility
National Amateur Retriever Club
National Springer Spaniel Field Trial Association
Newfoundland Club of America Charitable Trust
Norwegian Elkhound Association of America, Inc.
Parson Russell Terrier Association of America
Pembroke Welsh Corgi Club of America
Pembroke Welsh Corgi Club of America Charitable Trust
Portuguese Water Dog Foundation Inc.
Retriever News / Entry Express
Rhodesian Ridgeback Charitable Foundation
Rottweiler Health Foundation
Samoyed Club of America Education & Research
Scottish Terrier Club of America
Siberian Husky Club of America, Inc.
Soft Coated Wheaten Terrier Club of America, Inc.
Staffordshire Terrier Club of America, Inc.
TarTan Gordon Setter Club
Tibetan Terrier Club of America/Tibetan Terrier Health & Welfare Foundation
Treeing Walker Breeders & Fanciers Association
United States Australian Shepherd Foundation
Welsh Springer Spaniel Club of America, Inc.
Help Future Generations of Dogs
Participate in canine health research by providing samples or by enrolling in a clinical trial. Samples are needed from healthy dogs and dogs affected by specific diseases.