Lopamudra Kher, BVSc&AH, MVSc, MS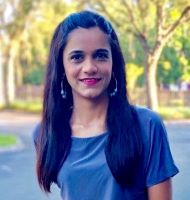 Lopamudra Kher, BVSc&AH, MVSc, MS (CHF Grant 02924-E)
Mentor: Domenico Santoro, DVM, MS, DrSc, PhD; University of Florida

Dr. Kher completed her Bachelor of Veterinary Science and Animal Husbandry and Master of Science degree in veterinary parasitology at Maharashtra Animal and Fishery Sciences University in India. She then completed a Master of Science degree at the University of Florida College of Veterinary Medicine and is now a doctoral candidate in the Small Animal Clinical Sciences Department of the University of Florida College of Veterinary Medicine.

Dr. Kher's research focus is dermatology, specifically studying the relationship between bacteria and the host's immune system to further the development of new treatment options. She will study the effect of signaling molecules associated with canine atopic dermatitis on S. pseudointermedius bacteria – both free-living and within biofilm.

Dr. Kher hopes to become board-certified in veterinary dermatology and work in research and clinical settings.

This fellowship is generously sponsored in part by the Westie Foundation of America.

Dr. Kher's mentor, Domenico Santoro, DVM, MS, DrSc, PhD, has received prior CHF funding for dermatology research. Read about her research:
02825-A: Effect(s) of Atopic Dermatitis-associated Cytokines on Staphylococcus pseudintermedius
02694: Investigation on the Molecular Crosstalk between Canine Atopic Skin and Microbes: Unraveling Potential Pathomechanisms for Chronic Recurrent Skin Infections
02653-A: Evaluation of the Serum and Cutaneous Levels of Chemokines in Atopic Dogs
02407-A: In vitro Efficacy of Nano-sulfur Against Planktonic and Biofilm State of Resistant Bacteria
02182-A: Is Defective Secretion of Antimicrobial Peptides Associated with Reduced Microbicidal Effects in Atopic Keratinocytes?
Help Future Generations of Dogs
Participate in canine health research by providing samples or by enrolling in a clinical trial. Samples are needed from healthy dogs and dogs affected by specific diseases.