Field Awareness
11/01/2013
Dangers Afield
The sound of crinkling leaves underfoot signals the start of upland bird hunting and fall field trials, a favorite time of year for many sporting dog enthusiasts. Lurking in the grouse woods or along the edges of a prairie where bobwhite quail can be found are unseen dangers to dogs.
"Subtle little things can cause disaster for dogs," says veterinarian and hunting enthusiast Joe Spoo of Sioux Falls, S.D. "Lacerations and puncture wounds from hidden dangers such as barbed wire fences are the leading cause of injuries that we see. A dog running through the woods or a field also is at risk for a stick, cattail, corn stalk or similar object to become impaled in his body."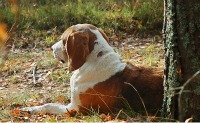 There are other subtle dangers that are not easily recognized but can be potentially life-threatening. These include leptospirosis, a zoonotic bacterial infection spread by the urine of an infected animal; ehrlichiosis, a tick-borne illness similar to Rocky Mountain spotted fever; and grass awn migration disease, also known as mean seed disease.
To learn more about these diseases and ways to prevent them, the AKC Canine Health Foundation is supporting research as part of its Canine Athlete Initiative. Podcast features (akcchf.org) presented by the researchers plus one by Spoo on common field dangers to dogs and how to prevent injuries were part of the Foundation's Field and Hunting Dog Health Awareness campaign. Here is a review of the research studies.
Using GPS to Track Lepto
Active dogs that spend time outdoors, especially in areas with high annual rainfall and warm climates, are at increased risk for leptospirosis, commonly known as lepto disease. Lepto is spread through the urine of infected animals, getting into water or soil where it can survive for weeks, even months.
The Leptospira spp. bacteria can cause kidney or liver failure, the eye disorder uveitis and hemorrhage of the lung. Signs include fever, lethargy and vomiting. Diagnosing leptospirosis early before a dog goes into renal failure and treating with fluids and antibiotics are key to a positive outcome. Dialysis may be necessary later, reducing the chances of a successful outcome.
Janet Foley, D.V.M., Ph.D., professor and veterinary epidemiologist at the University of California-Davis School of Veterinary Medicine, has been comparing 67 affected dogs to 271 healthy control dogs that were evaluated at the University of California-Davis Veterinary Medical Teaching Hospital from March 2001 to November 2010. Affected dogs were hospitalized on average 11 days, with treatment running more than $5,000 per dog. Dogs 5 years and older were at increased risk, as were hound and herding breeds. Thirteen percent of affected dogs died from the disease.
"I suspect lepto may be underreported and thus more common than we realize," Foley says. "The difficulty diagnosing this disease makes it hard to know the number of affected dogs. Blood testing is crucial to identify whether a dog contracted lepto from wild species, other dogs or standing water, but it usually is not positive until late in the disease or even after a dog recovers."
Using GPS mapping, Foley and her research team, led by graduate student Janemarie Hennebelle, D.V.M., tracked canine lepto infection in California. "We found significant risk of lepto in dogs from the San Francisco Bay region, the Sierra Nevada foothills near Sacramento, as well as California's Central, North and South Coasts," says Foley. "GPS has provided a visual presentation that is helping us to determine vaccination strategies to prevent lepto."
Although there is a vaccine to protect dogs from leptospirosis, it is not a core vaccine and is not widely used. Nearly all the affected dogs in the study did not have adequate protection from the lepto vaccine.
"I believe the vaccine should be a core vaccination, especially for field dogs," Foley says. "The reason it is not is partly because of the perceived risk of side effects, especially in small breeds. An alternative is not to require the vaccine for certain breeds that may have an adverse reaction."
Ehrlichia Study at Ames Plantation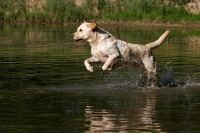 A disease that is believed to be increasing, especially in the Southeastern United States, ehrlichiosis is a tick-borne illness caused by different species of Ehrlichia bacteria. Affected dogs can develop chronic inflammatory disease, bleeding problems and kidney damage. Owners may notice their dogs having fever, lethargy, loss of appetite, weight loss, and abnormal bleeding. Antibiotic treatment can be successful, though reinfection may occur because immunity is not long lasting.
Rebecca Trout Fryxell, Ph.D., assistant professor of medical and veterinary entomology at the University of Tennessee, is examining the prevalence of Ehrlichia in adult American dog and lone star ticks collected at Ames Plantation in Grand Junction, Tenn., the 18,400-acre running grounds of the National Field Trial Championship for All-Age Bird Dogs. The goal of the research is to learn the habitat and environment of ticks carrying Ehrlichia.
The research team collected 17,000 ticks starting at the National Championship in February and on a monthly basis for six months. "The great news is that our team could not find any ticks on the hunting dogs, though we found many ticks in the field," Trout Fryxell says. "I have been very surprised by the diversity of ticks and pathogens."
Of the total ticks collected, 926 were adult lone star ticks and more than 2,000 were adult American dog ticks. Eighteen of the lone star ticks tested positive for one of four Ehrlichia species. "The diversity of Ehrlichia within the lone star ticks is greater than I realized," says Trout Fryxell. "Two of these species, E. chaffeenis and Panola Mountain Ehrlichia, can hurt people, too. Seasonal trends were very apparent for lone star ticks. The adult populations peaked in June, and the ticks testing positive were collected in July."
Although the screening of the American dog ticks has just begun, Fryxell estimates that 1 to 8 percent of ticks in an endemic area have an Ehrlichia species. To prevent ehrlichiosis, Trout Fryxell stresses the importance of checking yourself and your dog for ticks after a day in the field. "If you find a tick on yourself, odds are there is at least one on your dog," she says.
Trout Fryxell suggests storing removed ticks in a plastic bag in your freezer with the date and location where you were. If signs of ehrlichiosis develop within two weeks, knowing the species of tick may help with the diagnosis, she says.
CRP & Mean Seed Disease
Bacteria-carrying barbed grass seeds can potentially cause a life-threatening condition in sporting dogs known as grass awn migration disease. William K. Lauenroth, Ph.D., professor of botany at the University of Wyoming, has been studying this disease to determine whether it is more common due to the presence of grasses with barbed awns in the U.S. Department of Agriculture's Conservation Reserve Program (CRP) lands.
The disease occurs when harmful grass seeds snag a dog's coat and burrow through the skin or when a dog inhales them running through a field. Eventually, these seeds migrate through the soft tissues of the body, leaving infection behind. Mean seed disease is challenging to treat partly because a dog often does not show signs until the disease is advanced.
The research involves analyzing USDA data from 10 states to identify problem grasses in CRP mixes. The goal is to establish a comprehensive list of problem seeds. Among the barbed grass seeds known to be potentially harmful to dogs are cheatgrass, Canada wild rye and foxtail barley.
The goal of the CRP program is to prevent soil erosion and preserve wildlife habitat by encouraging farmers to plant grasses on idle cropland. Many sporting dog owners suspect the increase in grass awn disease is directly related to the use of these barbed grasses by the CRP program since CRP land is commonly used for hunting and field trials.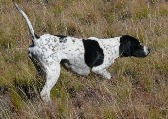 Among the 10 Midwestern states included in the study, there were 11.5 million acres of CRP ground. "Ohio, Iowa and Minnesota had the most extensive plantings of the two wild rye species of concern to dogs," says Lauenroth. "South Dakota, Nebraska and Kansas had the smallest numbers of these plantings."
Lauenroth interviewed representatives of eight Midwestern veterinary teaching hospitals to learn about the frequency of grass awn disease over the past two decades. He discovered that grass awn migration disease is very difficult to diagnose with certainty, and the prevalence of the disease has indeed increased in the past decade. "Additionally, two problematic wild rye species are not an essential part of the CRP seed mixes," he says. "Deleting them would not have a significant impact on the CRP land and would potentially help dogs at risk for this disease."
Enthusiasts can help make their fall hunting season a rewarding and enjoyable experience by being cautious of potential dangers. Taking time to check your dog for ticks and grass awn seeds for quick removal will go a long way toward this end.
Practicing Safety in the Field
Sporting dog enthusiasts should take steps to help ensure they have a safe hunting or field trial experience with their canine companion. Importantly, you should know your dog well and be able to readily recognize signs of something wrong. Here are helpful tips from Joe Spoo, D.V.M., CCRT, a resident of the American College of Veterinary Sports Medicine and Rehabilitation and a gundog enthusiast from Sioux Falls, N.D.
A preseason wellness examination will help to establish your dog's health and physical condition. Dogs that are not in condition are at risk for heat stress and injuries, particularly if they start working too hard too soon.
Take it nice and easy at the beginning of the season. Don't expect an unconditioned dog to be capable of hunting all day. Be aware of your dog's limitations and do not let the excitement of opening day overrule your common sense.
Heat stress and subsequently heat stroke are preventable. You should be aware of your dog's body temperature tolerance. Humidity combined with high temperatures can have a detrimental effect on dogs, particularly those not in shape.
Feed a quality, nutritious performance dog food year-round, reducing the amount fed in the off season. Hardworking dogs need higher fat and protein levels to nourish and repair their bodies. You should base the amount of food fed on the energy expended without overfeeding.
Hydration is vitally important in the field for helping dogs cool down. You should bring your own water to help prevent intestinal upset.
Carry a first-aid kit to treat minor injuries and be prepared to take your dog to a veterinarian for more serious injuries. Most injuries can be addressed in the field with follow-up care once you return home, though this isn't always the case. Have contact information handy for a veterinarian where you are hunting or field trialing.
This article is used with permission from Today's Breeder, Nestlé Purina PetCare.
Help Future Generations of Dogs
Participate in canine health research by providing samples or by enrolling in a clinical trial. Samples are needed from healthy dogs and dogs affected by specific diseases.