Bloat (GDV)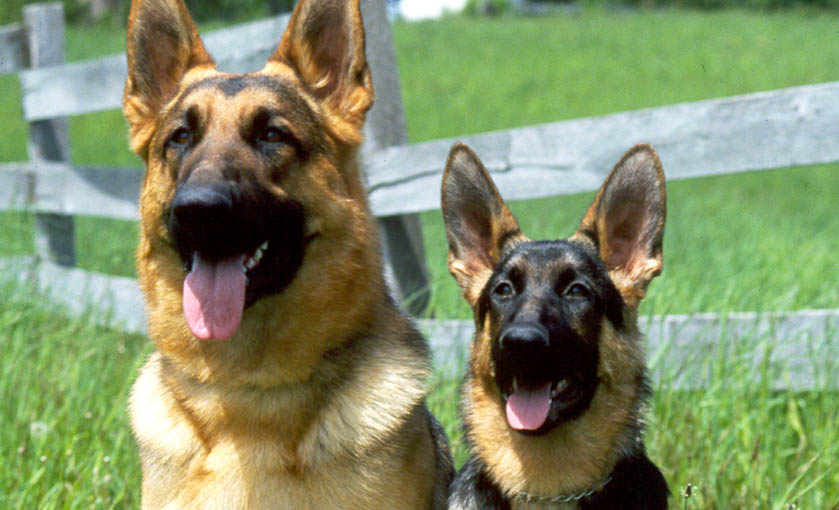 Photo credit: American Kennel Club
Gastric dilatation, commonly known as bloat, is a rapidly progressing and devastating condition that can develop in several different breeds of dogs. The condition is initiated when the stomach dilates and food and gas cannot be expelled. As the stomach dilates and expands, the pressure in the stomach begins to increase, causing inadequate blood return to the heart from the abdomen, loss of blood flow to the lining of the stomach, and rupture of the stomach wall. In some cases the stomach can become dilated enough to rotate in the abdomen, a condition called volvulus. The rotation can lead to blockage of the blood supply to the spleen and the stomach wall, and without immediate surgical correction of volvulus and removal of the dead tissues the patient can die.
Research
Research funded through the Bloat Initiative aims to establish the causes and pre-dispositions for gastric dilatation-volvulus (GDV), or bloat.
Grants
02233-A: Evaluation of a Novel Technique for Gastric Decompression in Dogs with Gastric Dilatation and Volvulus
Principal Investigator: J. Brad Case, DVM, MS; University of Florida
Total Grant Amount: $233,774; Grant Period: 11/1/2015 - 10/30/2017
02338: The Genetics of Bloat in German Shepherd Dogs: The Roles of Immune System Genes and the Gut Microbiome
Principal Investigator: Michael Harkey, PhD; Fred Hutchinson Cancer Research Center
Total Grant Amount: $152,270; Grant Period: 6/1/2017 - 5/31/2019
01935-B: Abnormalities in the Stomach's Ability to Contract Predisposes Large-Breed Dogs to Bloat
Principal Investigator: Dr. Laura L. Nelson, D.V.M.; Michigan State University
Total Grant Amount: $233,774; Grant Period: January 1, 2014 - June 30, 2017
01937-B: Evaluating the Complex Genetic Basis of Bloat
Principal Investigator: Elizabeth A. Rozanski, DVM; Tufts University
Total Grant Amount: $251,097; Grant Period: January 1, 2014 - December 31, 2017
Education
CHF is excited to offer a free educational webinar "Bloat: What Every Dog Owner Needs to Know" with Dr. Elizabeth Rozanski. In the webinar, Dr. Rozanski explains what every dog owner needs to know about gastric dilatation-volvulus, or bloat. She presents the signs and treatment options for bloat along with current options for prevention.

The Foundation also plans to provide continuing education for veterinarians showing surgical procedures used for prevention - gastropexy during spay/neuter.
Feature Articles
Genetic & Gut Bacteria Link to Bloat in Great Danes -- Featured in the Summer 2017 issue of the Great Dane Update, courtesy of Purina Pro Plan.
Bloat Initiative Sponsors
Champion Sponsors ($50,000+):
| | |
| --- | --- |
| | |
| | |
| | |
Lead Sponsors ($25,000 - $49,999):
Basset Hound Club of America
German Shepherd Dog Club of America
Newfoundland Club of America Charitable Trust
Charter Sponsors ($10,000 - $24,999):
Akita Club of America
American Black & Tan Coonhound Club
Briard Club of America Health and Education Trust
Doberman Pinscher Club of America
English Setter Association of America, Inc.
Gordon Setter Club of America
Greater Swiss Mountain Dog Club of America
Orthopedic Foundation for Animals
Weimaraner Club of America
Bloat Sponsors ($2,500 - $9,999):
Afghan Hound Club of America, Inc.
Atlantic States Briard Club
American Bloodhound Club
American Chesapeake Bay Retriever Club
Borzoi Club of America
Delaware County Kennel Club
English Springer Spaniel Field Trial Association
English Springer Spaniel Field Trial Association Foundation
Flat-Coated Retriever Foundation
Forsyth Kennel Club
German Wirehaired Pointer Club of America
Great Pyrenees Club of America
Irish Wolfhound Club of America
Kuvasz Fanciers of America
Poodle Club of America Foundation
Rhodesian Ridgeback Club of the United States
Scottish Deerhound Club of America
TarTan Gordon Setter Club
Versatility in Poodles
For information about how to become a sponsor contact chfgrants@akcchf.org. Or make an immediate donation of any amount to the Bloat Initiative.

Help Future Generations of Dogs
Participate in canine health research by providing samples or by enrolling in a clinical trial. Samples are needed from healthy dogs and dogs affected by specific diseases.