A Warning about Death Cap Mushrooms
03/21/2011
On August 17, 2010 I lost my sweet little Bernese Mountain Dog puppy, Donato. To this day, I still have moments of disbelief and will forever ask the unanswerable question, "Why?" We had been celebrating a warm summer day at a friend's house in Carmel Valley and unbeknownst to us he ate a Death Cap mushroom (Amanita Phalloides). Within 12 hours he was violently ill, in 24 hours he was failing, in 48 hours I knew I was losing him. Even with the valiant efforts of a team of incredible vets and vet techs at Adobe Animal Hospital, his spirit left us 60 hours after he ingested the deadly Amanita Phalloides.
Donato's name means gift in Italian. He was barely six months old and yet we packed in what will have to be a lifetime of memories. He ran on the beach, saw the Sierras, shopped at Bloomingdales and rode a gondola to the top of Mammoth Mountain to see the snow. With his tail always wagging, he had a boundless enthusiasm for life. He loved me and I him. We were a team ordained by the stars and had plans on going oh, so very far. I always told him he would be a very important dog. Little did I know what that would come to mean.
Since that dreadful day I have learned so much about this deadly mushroom. One of the best descriptions that I've found comes from the Bay Area Mycological Society:
The Amanita phalloides is a strikingly beautiful mushroom and the number one cause of fatal mushroom poisonings worldwide. Originally found in Europe, it has proved to be highly adaptable to new lands and new mycorrhizal hosts. Death caps now occur around the world, from Australia to South America, but nowhere have they found a place more to their liking than in the oak strewn State of California.
In the San Francisco Bay Area, Amanita phalloides can be found at all times of the year. Death Caps are most abundant during the heart of our fall and early winter rainy season, but they can also appear through late spring, and even during rainless summers, in areas of coastal fog drip or in stands of irrigated oaks.
Like all amanitas, young Amanita phalloides are completely covered by a tissue called a universal veil. This tissue is tough and membranous. As the young mushroom expands, the veil tears cleanly. This normally results in the mature mushroom having a bald cap. Color in many amanita species can be quite variable, but a classic phalloides will have a greenish-yellow cap. Death Caps can also be green, yellow, brown or tan or rarely white, and often take on a metallic sheen with age and drying. The veil drops as the cap expands, to form a delicate skirt or annulus around the stipe. The scent of a Death Cap can be pleasant and sweet in youth, or foul and fishy as it decays.
From Amanita phalloides: Invasion of the Death Cap.
What puppy wouldn't give a sniff to that? Though the highest density of occurrences of Death Caps is around the San Francisco Bay Area, there are two distinct ranges in the United States. One is along the west coast (as far south as Los Angeles County and north to Vancouver Island, Canada) and the second is on the East Coast (from the Atlantic Coastal Plain of Maryland northward to the White Mountains of New Hampshire and east to the coastal islands of Maine). In California, Death Caps are associated with Coast Live Oak trees, in Oregon with chestnut or filbert trees and on the East Coast with pines.
Death Caps contain acutely toxic amatoxins, which can result in liver failure or death. The most promising treatment is intravenous Silibinin, a derivative of milk thistle, however, even this did not help my sweet Donato. More research needs to be done and more grant money needs to be allocated. Experts say that the range of the Death Cap is spreading and they are becoming more prolific. Dog owners need to take heed.
If you see Death Caps in your yard or dog park, pick them and bag them. But as a local ranger said, err on the side of caution. Pick everything, bag it all and throw them out. There are other mushrooms out there that can kill. (i.e. , Amanita ocreata, The Death Angels and Galerina marginata, the Deadly Galerina)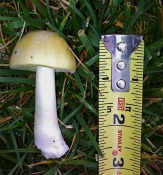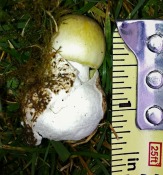 If a Death Cap is ingested seek medical help immediately. Now, I'm sure to carry hydrogen peroxide in my first aid kit. If I'm on a hike and my dog has ingested a mushroom, I'm prepared and can induce vomiting if necessary.
It has become Donato's legacy and my mission to spread a warning about the danger of mushroom toxicity. With the help of friends I created a flyer to raise the awareness about Death Caps. Donato's flyer has rapidly spread throughout the dog community and via the internet. It has been posted in pet shops, veterinarian offices, dog parks, grooming salons, published in dog club newsletters, linked to websites and has been in local newspapers. Let Donato help keep our loved ones safe. So far my little pup's story has saved the lives of three dogs. In the spirit of paying it forward I'm happy to say their owners are making flyers and continuing to spread the word.
Download the flyer post in your area.
Today, as I look at our beautiful California Oaks, I pause and search the ground for mushrooms before I let my new pup, Tesoro, run and play. Let what happened to Donato and I not happen to another. This is Donato's final gift. My sweet Donato, you really have become a very important dog.
Additonal Resources:
http://bayareamushrooms.org/poisonings/index.html
http://bayareamushrooms.org/mushroommonth/amanita_phalloides.html
Help Future Generations of Dogs
Participate in canine health research by providing samples or by enrolling in a clinical trial. Samples are needed from healthy dogs and dogs affected by specific diseases.