J. Charles Garvin, MD, FACS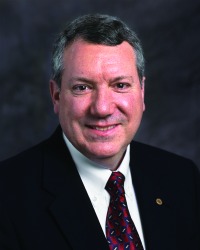 Dr. J. Charles Garvin is the chairman of the CHF Board of Directors and also serves on the Foundation's Scientific Review Committee. He is an ophthalmic surgeon and president of a 72-physician medical practice.
Dr. Garvin has been closely associated with Dalmatians since the 1960s. Since then, he has had 86 champions in the breed, most of them owner-handled. Dr. Garvin has judged at the Dalmatian Club of America (DCA) national specialty show five times, including the AKC Centennial Show in 1984, and has judged nationals in Canada and Australia. He has served multiple terms as DCA president and has sat on the club's board of directors for 28 years. A life member of the Central Ohio Kennel Club and the Marion Ohio Kennel Club, he has been Marion's AKC Delegate since 1990 and a club officer for 27 years. He is also a member of the American Kennel Club Board of Directors.
He and his wife, Lynn, have two sons and a daughter. They reside in Marion, Ohio.
Read "SPOTlight on Dr. Garvin, Chairman of the AKC Canine Health Foundation Board of Directors," a profile of Dr. Garvin for CHF's 25th anniversary.
Help Future Generations of Dogs
Participate in canine health research by providing samples or by enrolling in a clinical trial. Samples are needed from healthy dogs and dogs affected by specific diseases.