Josephine Dornbusch, DVM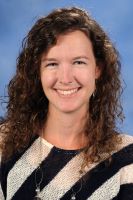 Josephine Dornbusch, DVM (CHF Grant 02922-E)
Mentor: Laura Selmic, BVetMed (Hons), MPH, DACVS-SA, DECVS; The Ohio State University
Dr. Dornbusch earned her Bachelor of Science and Doctor of Veterinary Medicine degrees from the University of Florida. She completed a small animal medicine and surgery internship at the University of Missouri College of Veterinary Medicine followed by a surgical oncology research internship at the Ohio State University College of Veterinary Medicine. She is now completing a Master of Science degree and small animal surgery residency at the The Ohio State University College of Veterinary Medicine.
Dr. Dornbusch is this year's AKC Canine Health Foundation GCHP Hill Country's Let's Get Ready To Rumble "Rumble" Clinician-Scientist Fellow (akcchf.org/rumble). Her research will evaluate the clinical efficacy of a novel technique for urethral catheterization of female dogs and puppies weighing less than 10kg (22lb). Urethral catheterization is more technically challenging in female dogs as compared to males, and the challenge is magnified in smaller patients. A novel two-catheter urethral catheter placement technique was previously shown to be more effective than traditional catheterization technique in a small population of healthy females. It will now be tested in a larger population of clinical cases needing urinary catheterization with the goal of increasing clinician success at placing urethral catheters in small, female dogs.

Dr. Dornbusch hopes to pursue a career in academia specializing in canine soft tissue surgery.

This fellowship is generously sponsored by Rumble's owners, Carolyn and Gary Koch, and breeders Kristy and Kevin Ratliff.

Dr. Dornbusch's mentor, Laura Selmic, BVetMed (Hons), MPH, DACVS-SA, DECVS, has received prior CHF funding for oncology research. Read about her research:
02758: Optical Coherence Tomography for Margin Evaluation of Canine Skin and Subcutaneous Neoplasms
02204-T: Using Enhanced Imaging to Evaluate Tumor Margins for Canine Mammary Cancer and Soft Tissue Sarcoma
Help Future Generations of Dogs
Participate in canine health research by providing samples or by enrolling in a clinical trial. Samples are needed from healthy dogs and dogs affected by specific diseases.