Small Animal Reproductive Medicine Thrives Thanks to Collaboration Between the American Kennel Club, AKC Canine Health Foundation, Theriogenology Foundation and Auburn University
05/01/2020
Author:
Sharon M. Albright, DVM, CCRT
The theriogenology service at Auburn University College of Veterinary Medicine has a long-standing history as a strong and well-rounded program, serving both large and small animal species. So, it was no surprise that they were one of the first veterinary schools to receive funding through the American Kennel Club/AKC Canine Health Foundation/Theriogenology Foundation (AKC/AKCCHF/TF) Small Animal Theriogenology Residency Program.
Theriogenology is the branch of veterinary medicine concerned with reproduction,
including the physiology and pathology of the male and female reproductive systems,
and the clinical practice of veterinary obstetrics, gynecology, and andrology.
The American Kennel Club (AKC) and AKC Canine Health Foundation (CHF) along with the Theriogenology Foundation (TF) recognized an unmet need for additional veterinary clinicians with expertise in this field. Through a competitive grant program, AKC and CHF provide funding and partner with the Theriogenology Foundation to support veterinary residency training with a focus on canine reproductive health. Residents are trained in all aspects of small animal reproductive medicine and surgery, canine clinical genetics, health research, and clinical practice. The program has met and exceeded expectations, supporting seven residents at five different universities since 2016, with funding to support the program extended through 2023.
Timing is everything –
The AKC/AKCCHF/TF Small Animal Theriogenology Residency Program began shortly after Auburn University completed construction of the Wilford and Kate Bailey Small Animal Teaching Hospital, one of the nation's largest and most advanced animal healthcare and clinical education facilities, in 2014. With expanded facilities and a growing team of specialists, the college was able to provide more focus on canine reproduction. Benefits to the university and local dog breeding community were immediate.

"Our small animal caseload increased dramatically," states Dr. Robyn Wilborn, Associate Professor of Theriogenology and Residency Coordinator at Auburn University College of Veterinary Medicine. "With dedicated space in the hospital and increased visibility of our impact on the companion animal community, the Small Animal Theriogenology Service garnered more respect from everyone at the university."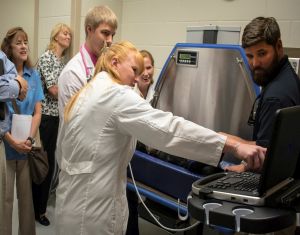 Expansion of Auburn's Canine Performance Sciences (CPS) program also bolstered the Small Animal Theriogenology Service. CPS investigators study olfaction, neuroscience, genetics, and physical performance to advance detection dog capabilities for conservation, medical, and explosives detection. They also have an extensive breeding program to produce superior working dogs that can be employed for a variety of purposes. Collaboration between CPS and the Small Animal Theriogenology Service provides valuable exposure to canine reproductive medicine and neonatology for veterinary students at every level and offers the highest level of care for the dogs and their offspring.

Clients and their dogs benefitted as well. "Many of the other hospital specialty services started coming to us for consultation," Dr. Wilborn notes. "Clinicians from the Theriogenology Service consult on cases of mastitis, vaginal prolapse, and more that come in through the Emergency Service." Plus, dog breeders feel like they have a partner at the veterinary hospital. "Clients feel a stronger connection with the Theriogenology Service," states Dr. Wilborn, "because we understand their goals and needs. They look to us to help them navigate other health concerns that may affect their dogs' well-being or impact their breeding program."
Community outreach –
Auburn's small animal theriogenology clinicians strengthen their connection with the dog breeding community through several community outreach programs. They speak to local kennel clubs and Dr. Wilborn finds that "club members encourage each other to be better, more educated dog breeders since they have such a valuable resource available nearby at Auburn University." Like many other veterinary teaching hospitals, Auburn also offers Canine Breeder Excellence Seminars (CBEST) to educate both novice and experienced dog breeders about the latest best practices in canine reproduction. Proceeds from CBEST events benefit the Theriogenology Foundation, which supports student endeavors related to reproductive medicine.

Working together –
Dr. Wilborn notes that collaboration and trust come easily in the world of small animal theriogenology. "We all share the same goal – to improve canine health through identification and treatment of hereditary disease," she states. Collaboration between the AKC, CHF, TF, and Auburn University promotes clinical and research excellence and ensures that trained practitioners will be available to support the reproductive, genetic, and general health needs of all dogs for years to come.

Auburn University welcomed their latest AKC/AKCCHF/TF Small Animal Theriogenology resident in 2019. The clinical service is currently supported by two faculty members, Dr. Wilborn and Dr. Aime Johnson, and is adding another clinician. With a solid foundation and demonstrated growth, the sky is the limit for this valuable service. It is an outstanding example of how purpose-bred dogs and all dogs will continue to benefit from collaboration between veterinary colleges and the AKC Canine Health Foundation.
Learn more about the AKC/AKCCHF/TF Small Animal Theriogenology Residency Program at akcchf.org/therio.
Related Articles
Help Future Generations of Dogs
Participate in canine health research by providing samples or by enrolling in a clinical trial. Samples are needed from healthy dogs and dogs affected by specific diseases.