Toby's Lymphoma Battle
05/01/2012
In August 2009 Karen Tria was five days away from a long-anticipated trip to Alaska. Tria was busy preparing for her trip and grabbed Toby, her Curly-Coated retriever, to give him a good rub. She was surprised to notice two lumps on either side of his neck. "Several agonizing hours later we finally got in to see our veterinarian, Dr. Chet. Having just lost two dogs in the past several months, I was frantic," said Tria. Unfortunately, the blood work results were not good. Toby had lymphoma.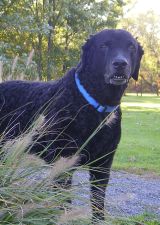 Lymphoma is a cancer (neoplasia) that affects lymph nodes and other organs containing lymphoid tissue. In domestic dogs, the term typically is used to refer to malignant multicentric lymphoma, also called lymphosarcoma, which is a progressive, multisystemic disease caused by overgrowth of certain cells in the bone marrow, thymus, lymph nodes, liver, spleen and/or other tissues. Multicentric lymphoma is the most common lymphoma in domestic dogs and usually shows up first as painless but enlarged peripheral lymph nodes. Owners may see or feel these in areas under the jaw, in the armpits, in the groin area or behind the knees. Enlargement of the liver and/or spleen can also occur, causing the abdomen to distend.
Dr. Chet, Toby's veterinarian, said he wanted to perform a needle aspiration and have it tested for a definitive diagnosis. According to Petwave.com, a Fine Needle Aspiration (FNA) is the most reliable way to diagnose lymphoma in dogs. This simple procedure involves inserting a small needle into the suspicious lymph nodes and withdrawing fluid and cells through an attached syringe. The sample is then expressed onto a glass slide and examined under a microscope to identify any cellular abnormalities.
The next week, when Tria returned to the veterinarian's office for the biopsy results, she was in no better shape. "I cried because I cancelled my trip. I cried for what I was about to put my dog through. I cried for the two dogs I had recently lost," said Tria. Chet discussed the chemotherapy protocol with Tria. Because canine lymphoma – especially the common multicentric form – responds well to chemotherapy, Chet recommended this as the best plan of attack for Toby. Cancerous lymphatic cells are distributed throughout the dog's body and chemotherapeutic drugs, given both orally and intravenously (IV), are used to destroy them. Chemotherapy protocols are complicated and rapidly evolving. Chet agreed that he would tell Tria when further treatment was no longer viable. Tria pleaded with Chet, asking him to do his best to give her six more months with Toby. "I couldn't handle the loss of another dog so soon," remembers Tria.
"That first night was a rough one - on me!" said Tria. "I watched Toby's every breath." By morning, Tria was exhausted, but Toby was up and wagging his tail. Three days later the swelling on the sides of Toby's head was gone and he was running around like a puppy, even though he was three months short of 12 years old.
And so it went for the next nine months, with a big celebration when Toby made it into month six. According to Tria, although Toby went right into remission, he continued with the chemo treatments. "We'd go in on Thursday. Toby would get one of several drugs. We'd spend the afternoon taking a long walk and just enjoying each other. Then I would be up all night watching him and he would be fine, followed by his spurt of energy a few days later. There were isolated incidents where he'd be sick. His hair thinned, but then again he was over 12 years old," said Tria.
Toby's cancer diagnosis was a wake-up call for Tria. "Every day was suddenly so precious," she said. "How many times had I rushed through the day, only meeting my dogs' basic needs? How many times were they in the way when I had somewhere to go, or something to do? How many times did I say, 'I'll play with you tomorrow?' Had Toby passed suddenly, I would have never gotten or recognized some wonderful opportunities and made some wonderful memories."
Tria had asked her veterinarian for six months and she received 28 months in total. One day Toby stopped eating and Tria knew it was time to say good-bye. "Toby was over 14 years old. Active until the very end," said Tria.
Tria says that her experience with Toby taught her some important life lessons. "I learned that saying 'We'll play later' no longer existed. Later became right now. I learned that taking long walks and hikes on our weekends was more exhilarating than sleeping in. I learned that the money from a few extra hours at work was nothing compared to the happiness of coming home to see my dog. I learned that caring for the sick can deepen your bonds and your love beyond anything I could imagine. I learned that a very positive attitude can heal quicker than a multitude of drugs in bottles. I learned that although cancer was our enemy, without it, our lives would have taken a different path. And I learned that letting go of Toby was the only gift I could give him in return for all his love and loyalty to me over the years."
The AKC Canine Health Foundation is dedicated to helping dogs like Toby live longer, healthier lives. We have funded over $8 million specifically for cancer research - looking for better treatment options, more accurate ways to diagnose disease and deeper understanding of how cancer functions.
Lymphoma is responsive to chemotherapy, but still the majority of patients relapse. And many types of canine cancer are far less responsive to treatment than lymphoma.
Please support our efforts so we can fund additional ground-breaking canine cancer research!
Help Future Generations of Dogs
Participate in canine health research by providing samples or by enrolling in a clinical trial. Samples are needed from healthy dogs and dogs affected by specific diseases.