Meet Steven Hamblin
11/05/2020
Steven Hamblin is a member of the AKC Canine Health Foundation's Board of Directors. Currently a real estate agent in Beverly Hills, CA, he brings a wealth of marketing experience and a true admiration for the heritage of purebred dogs to his role on the board. Steven breeds and shows Pekingese under the Dancing Lion kennel name. He is the Pekingese Club of America AKC Delegate and serves on the AKC Board of Directors.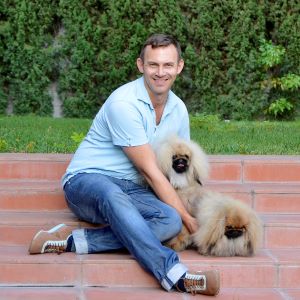 While relatively new to breeding and showing, Steven has been "dog-crazy" his whole life. Growing up, his family had purebred dogs as pets. Steven always asked his parents to attend dog shows and when he would be able to get his own dog. He studied breed histories and standards to decide on his breed of choice. Finally, as a pre-teen, his mother offered to visit a neighbor's litter of Pekingese puppies. With approval from his parents, Steven finally had his own dog and embarked into the world of the Pekingese!

Steven's serious interest in breeding and showing his dogs started in 2011 when a Pekingese breeder began mentoring him about responsibly bred Pekingese. While looking for his next dog, this mentor introduced Steven to Pekingese breeders that had diligently worked to improve the health of their breed. He acquired a male Pekingese with the requirement to earn the dog's conformation championship. As Steven started showing, he became increasingly interested in breeding dogs. "I was mesmerized by the pedigrees and gifted breeders of all breeds that have shepherded along great examples of their breed," he says. "The good and thoughtful breeders blow me away!" Steven enjoys showing dogs as a way to exhibit his breeding stock and demonstrate what he has created in his lines and their potential.

Steven was compelled to contribute even more to the American Kennel Club and dog fancy based on his admiration for the heritage of the AKC registry and all breeders. Through his involvement with the Pekingese Club of America's and AKC Board, he learned more about the dedication and important work of AKC Canine Health Foundation staff and funded researchers. The remarkable impact of canine health research became a reality for Steven after understanding how canine cancer research can translate to help human cancer patients too. He continues to share the importance of canine health research in advancing the health of all dogs and the people that love them. Steven says, "There is not a better place to give right now than canine health research!"

Thank you, Steven!
Help Future Generations of Dogs
Participate in canine health research by providing samples or by enrolling in a clinical trial. Samples are needed from healthy dogs and dogs affected by specific diseases.