Following Her Heart … and a Love for Dogs!
04/16/2020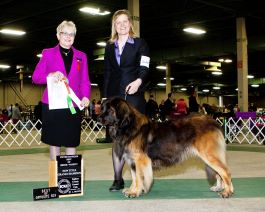 Dr. Kristin Bloink serves on the AKC Canine Health Foundation (CHF) Board of Directors. She is also the Vice President of Global Research and External Innovation at Elanco Animal Health, a large veterinary pharmaceutical company. Elanco was recipient of the 2019 AKC Canine Health Foundation President's Award for their long-term commitment to innovation in animal health. At Elanco, Dr. Bloink manages a diverse research portfolio of vaccine, nutritional, and pharmaceutical projects designed to improve the lives of animals and the people that care for them. Her professional experience in human and veterinary medicine, plus her life-long love for dogs, make Dr. Bloink a valued member of CHF's Board.

Medical school or veterinary school?
As a child growing up in Ames, Iowa, Dr. Kristin Bloink wanted a dog. At age 12, she convinced her parents to acquire a Golden Retriever – a trip to a Des Moines Golden Retriever Club Specialty was just the pitch her parents needed to be swooned by the breed. That started her interesting journey – both personal and professional – dedicated to helping dogs, humans, and many other species. Dr. Bloink's intelligent and caring leadership contributes daily to human and veterinary medicine.


Kristin Bloink, PA-C, MPH, DVM, DACVPM
Dr. Bloink earned a Physician's Assistant Certification from the University of Iowa in 1991,
Master of Public Health from the University of Michigan in 1998,
Doctor of Veterinary Medicine from Michigan State University in 2004,
and became a Diplomate of the American College of Veterinary Preventive Medicine in 2006.


Dr. Bloink has always been interested in medicine, but early in her career she couldn't decide if she wanted to treat humans or animals. She was regularly exposed to animal husbandry and veterinary medicine through her participation in 4-H and spending time with friends whose parents were veterinary professionals. She recounts an experience in junior high school with one of her best friends: "During a sleepover, my friend said that her father sometimes had to work on Saturday mornings, and she got to go along. The next morning, we went to work with him and watched as her father, a veterinary pathologist, performed a necropsy (animal autopsy) on a horse." The experience helped fuel her passion for medicine. Before finishing high school, Kristin became an Emergency Medical Technician and worked treating humans during her undergraduate studies.

Working in human medicine -
During her pre-med studies in biology, Kristin was intrigued by the physician's assistant program offered at the University of Iowa. It seemed like the perfect way to have a rewarding job, truly experience human clinical medicine, and save enough money to pay for veterinary school or medical school in the future. Best of all, a lovely Gannett Corporation scholarship, earned during her paper route days would pay the full tuition for the BS program.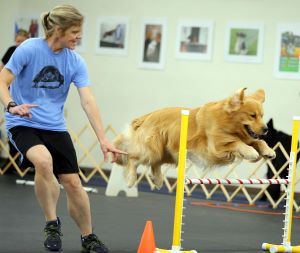 Kristin was employed as a physician's assistant for ten years in Maine, where she acquired her first dog as an adult. "Downy" was a Golden Retriever bitch intended as foundation stock for Dr. Bloink's breeding kennel. Unfortunately, her hips were rated fair by the Orthopedic Foundation for Animals (OFA), so Dr. Bloink decided not to breed her. Instead they showed in competitive obedience as Kristin learned more about and became involved with the Golden Retriever Club of America (GRCA).

Looking to move out of rural Maine and back to a more urban setting, Dr. Bloink took a physician's assistant position in the Department of Otolaryngology at the University of Michigan. Working with human disorders of the ear, nose, throat, head, and neck, Dr. Bloink performed clinical research, assisted in surgery, and satisfied her passion for medicine and helping others. In Michigan she obtained her second Golden Retriever, another bitch named "Tide." While they competed together in obedience, Tide also didn't seem like the best breeding stock and Dr. Bloink was busy with her career. So, starting a breeding kennel still didn't seem to be in their stars.

Dr. Bloink remained fascinated by human and veterinary medicine and earned her Master of Public Health degree while working at the University of Michigan. Her interest in One Health blossomed and veterinary medicine reemerged as her primary passion. (One Health recognizes the interconnection between people, animals, plants, and their shared environment.) Thanks to a supportive husband and encouragement from eclectic friends who followed their hearts, Kristin quit her job and used an Army scholarship to attend veterinary school at Michigan State University. Upon graduation she was thrilled to follow a dream of being a veterinary medical officer serving her country in the US Army – caring for military working dogs, executing public health programs, and ensuring safe food for the US servicemen and women.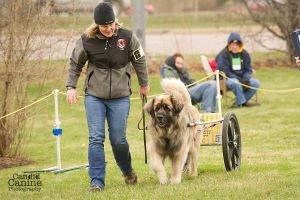 A new breed –
After veterinary school, Dr. Bloink and her husband spotted a unique dog while traveling. They met their first Leonberger and were enchanted by this special breed. Since then, Kristin has had success showing several male Leonbergers in the conformation ring and put them at stud. Owning the male dog was much more conducive to her busy lifestyle than the original plan of running a breeding kennel.

As most large dog owners know, these gentle giants don't live as long as smaller dog breeds. After losing each of their Leonberger males before or at the age of eight years, the Bloinks decided to go back to Kristin's Golden Retriever roots and adopted "Doc," their current golden boy.

Kristin has titled her Golden Retrievers and Leonbergers in numerous sports, including obedience, rally, agility, and drafting. Kristin says, "As a dog trainer, I love figuring out what each dog likes to do. Both breeds have had diverse talents. I enjoy the journey and bringing out the best in each of my dogs. Being an amateur dog trainer has made me a better leader in my professional life too!" Whether working in the Army, human medicine, or at a large pharmaceutical company, Kristin loves leading people and taking care of them. "My experience training dogs has helped me control my perfectionist tendencies and learn how to be creative motivating employees, being adaptable, and setting up an environment to achieve success," she states.

Supporting the AKC Canine Health Foundation -
During her experiences in human and veterinary medicine, Dr. Bloink was dismayed by the lack of tools available for doctors and veterinarians to treat their patients. So, she decided to work for a pharmaceutical company where she could create additional tools and help patients on a larger scale than clinical practice allowed. While working at her first animal health pharmaceutical job, Dr. Bloink had the opportunity to speak with Dr. Jaime Modiano, a CHF-funded researcher at the University of Minnesota. She learned about his research funding sources, including the AKC Canine Health Foundation. In 2007, Dr. Bloink attended the AKC Canine Health Foundation National Parent Club Canine Health Conference on behalf of the Leonberger Club of America and was impressed by this unique organization.

"We need a strong infusion of funding for researchers that are helping us understand basic science, to include the immune system of dogs. This information will ensure we find and develop useful tools that veterinarians can use to help care for their patients," Dr. Bloink says. "CHF is the premiere organization able to accomplish this and they have demonstrated over the past ten years that they invest in researchers with the best potential to conduct strong and valuable research to benefit all dogs."

Thanks to Dr. Bloink's contributions through CHF, the GRCA Health Committee, the Leonberger Club of America, and Elanco Animal Health, dogs and humans are benefitting from innovative and high-quality scientific research. "I love when veterinary medicine and human medicine converge," she says, "and we can make progress for all species!" CHF is grateful for the time, support, and expertise of this leader in animal health and life-long dog lover.
Help Future Generations of Dogs
Participate in canine health research by providing samples or by enrolling in a clinical trial. Samples are needed from healthy dogs and dogs affected by specific diseases.