UPPER AIRWAY SYNDROME - RESULTS OF A CROSS-SECTIONAL STUDY IN NORWICH TERRIERS
11/09/2020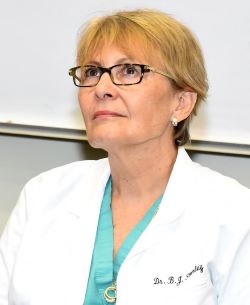 In Norwich Terriers it is likely that upper airway syndrome is a separate and different condition from brachycephalic airway syndrome, with distinctive, primary changes arising in the larynx. This webinar will summarize the Norwich Terrier Upper Airway Syndrome (NTUAS) Study Group's findings and will include discussion on:
Signs of upper respiratory compromise

The importance of a full upper airway examination and why all components should be evaluated

Components that appear to contribute to NTUAS

How the NTUAS Score was developed and what it means

The nature of progression of NTUAS over time
Original Air Date: Monday, November 9, 2020
Speaker: Bryden J. Stanley, BVMS, MSc, MANZCVS, MRCVS, DACVS
Learn more about Dr. Stanley's CHF-funded research:
Grant 02232-MOU: Characterization of Upper Airway Syndrome in Norwich Terriers
Grant 01935-B: Abnormalities in the Stomach's Ability to Contract Predisposes Large-Breed Dogs to Bloat
Grant 01467: Understanding Laryngeal Paralysis to Provide Better Treatment
This webinar is co-sponsored by the Norwich Terrier Club of America.
Related Articles
Help Future Generations of Dogs
Participate in canine health research by providing samples or by enrolling in a clinical trial. Samples are needed from healthy dogs and dogs affected by specific diseases.