Champion of Canine Health: George and Patty Benford
05/14/2015
Some dogs continue to make an impact even after they're gone.
Amanda was the beloved pet of George and Patty Benford. A beautiful Border Collie / Chow mix, Amanda was a rescue who came to live with the Benfords in 2004. "Amanda was a social butterfly who loved travel and meeting new people," according to George Benford. Unfortunately, Amanda's life was cut short by cancer and she passed away suddenly in 2013.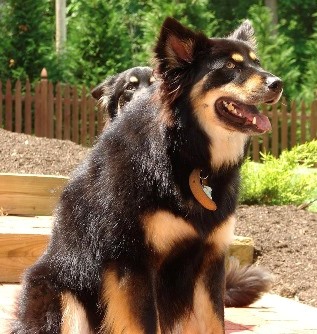 To honor Amanda's legacy of unconditional love, the Benfords founded the Amanda Benford Cure for Canine Cancer Fund. Their goal is to increase awareness of canine cancer and to raise funds to support research at the AKC Canine Health Foundation.
Doggie Howl-O-Ween is an annual event sponsored by several businesses in downtown Charlottesville, VA. Proceeds from the event benefit the Amanda Benford Cure for Canine Cancer Fund. Doggie Howl-O-Ween has taken on new meaning since its beginning in 2008. "Amanda loved this event and after her passing, we wanted Doggie Howl-O-Ween to have a real cause behind it," said George Benford. "I did a lot of research into various organizations and I was impressed by the solid record the AKC Canine Health Foundation has for working on health concerns for all dogs."
In addition to support from local businesses, the Charlottesville community has also been very supportive, with hundreds of two and four-legged family members attending. The event continues to grow and this past year more than 90 dogs registered for the Halloween parade and over $5,000 was raised to benefit CHF. Doggie Howl-O-Ween is held on the 30th of October so as not to impact traditional Halloween festivities. "Doggie Howl-O-Ween is a great event that involves families and businesses to benefit our beloved dogs," said George Benford.
"We are grateful to the Benfords and the Charlottesville community for their support of CHF," said Susan Lilly, CHF chief executive officer. "This type of grassroots fundraising makes a difference in the health of our dogs and makes a meaningful impact on the future of veterinary medicine."
The Benfords would love to see Doggie Howl-O-Ween replicated in other communities. "We've had a lot of practice running the event and we're happy to share our knowledge," said George Benford. "To have donations go to CHF in Amanda's name would be a beautiful legacy for a dog we love and miss dearly."
If you are interested in having a Doggie Howl-O-Ween event in your community, please visit the Amanda Benford Cure for Canine Cancer Fund website to learn more.
Help Future Generations of Dogs
Participate in canine health research by providing samples or by enrolling in a clinical trial. Samples are needed from healthy dogs and dogs affected by specific diseases.