Andrea Fiumefreddo, MS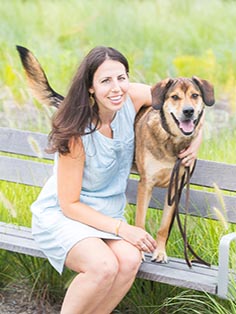 Andrea Fiumefreddo is the Chief Operating Officer for the AKC Canine Health Foundation. She oversees the Foundation's research and educational programs including grants application and review processes, programs strategies, and manages conferences and educational programs including the dissemination and communication of programs information to the Foundation's many dedicated constituents. She is also responsible for the day-to-day operations of the Raleigh office.
Andrea received her undergraduate degree from Smith College and Master's degree from UVA; she also earned a Certificate in Technology Leadership at UVA. Andrea brings a background in science, independent and collaborative research, and technology to her role at CHF. While at Duke University School of Medicine, Andrea was the Director of Operations for the Human Simulation Center – leading projects in medical simulation and education, working closely with MD's and researchers.
Andrea enjoys being outdoors, spending time with family, and running. She shares much of her outdoor time with her dog Parker. Andrea and Parker are members of the National Association of Canine Scent Work, training together for canine nosework competitions.
Help Future Generations of Dogs
Participate in canine health research by providing samples or by enrolling in a clinical trial. Samples are needed from healthy dogs and dogs affected by specific diseases.