Skylar Sylvester, DVM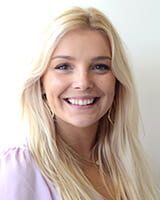 Skylar Sylvester, DVM (CHF Grant 02923-E)
Mentors: Cheryl Balkman, DVM, DACVIM (Oncology) & Kelly Hume, DVM, DACVIM (Oncology); Cornell University
Dr. Sylvester earned her Bachelor of Science and Doctor of Veterinary Medicine degrees from Cornell University. She completed a rotating internship in small animal medicine and surgery at the Matthew J. Ryan Veterinary Hospital of the University of Pennsylvania and is now a medical oncology resident at Cornell University College of Veterinary Medicine.

As part of her residency, Dr. Sylvester will lead a clinical trial to evaluate the efficacy of temozolomide in addition to standard doxorubicin therapy in dogs with splenic hemangiosarcoma. She hopes that temozolomide will provide the survival benefit that has been shown with a similar drug, dacarbazine, but in a way that is much more tolerable to dogs and pet owners.

Dr. Sylvester hopes to work in academia where she can conduct oncology research, treat patients, and educate future veterinarians.

This fellowship is generously sponsored by the Orthopedic Foundation for Animals (OFA).
Help Future Generations of Dogs
Participate in canine health research by providing samples or by enrolling in a clinical trial. Samples are needed from healthy dogs and dogs affected by specific diseases.