Eva Furrow, DVM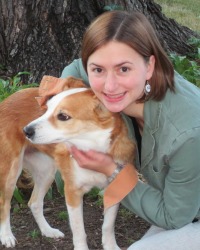 Dr. Eva Furrow is the 2014 AKC Canine Health Foundation Clinician-Scientist Fellow from University of Minnesota, College of Veterinary Medicine.
Dr. Furrow first became interested in the genetic basis of canine diseases when she was an undergraduate at Harvard University. She was offered a summer position in the Section of Medical Genetics at the University of Pennsylvania. One of her roles that summer included assistance in a study on the genetic muscular disease, myotonia congenital, in Miniature Schnauzers. Dr. Furrow later attended the University of Pennsylvania Veterinary School where an NIH-Merck grant enabled her to continue research on genetic diseases. She completed her Small Animal Internal Medicine residency at the University of Minnesota and is currently a member of the Canine Genetics Laboratory. Her primary research focus is on metabolic and genetic risk factors for calcium oxalate (CaOx) urinary stones.
Fellowship Research Project
Genetic diseases devastate pets, owners, and breeders. Uncovering the mutations responsible for these diseases permits the development of tests to identify susceptible patients before the disease occurs and, importantly, can result in new and innovative therapies to ameliorate, prevent and eradicate illness. Dr. Furrow will be investigating the most common type of urinary stones in dogs - calcium oxalate (CaOx). CaOx stones are a painful problem with frustratingly high recurrence rates and strong breed predispositions. Furrow has identified a genetic variant that is associated with stone risk in the Miniature Schnauzer, and is now performing studies to investigate the function of this variant. The Schnauzer variant is present in some other stone-forming breeds, but there is evidence that additional mutations for CaOx stones exist in dogs. Furrow has initiated genetic studies in the Bichon Frise, the second most common CaOx stone former, to identify a second mutation.
Learn more about the AKC Canine Health Foundation Clinician-Scientist Fellowship Program and Adopt a Researcher.
Help Future Generations of Dogs
Participate in canine health research by providing samples or by enrolling in a clinical trial. Samples are needed from healthy dogs and dogs affected by specific diseases.