Alana Redfern-Allen, DVM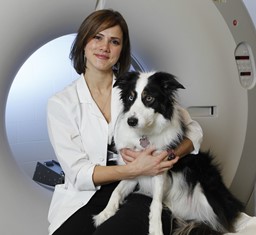 Dr. Redfern-Allen is currently working on a combined Internal Medicine Residency and MSc program at Iowa State University. She has a strong interest in clinical research, particularly One health-focused research activities that aim to improve the health of humans and animals alike.
Fellowship Research Project
Working under the guidance of Dr. Al Jergens, Dr. Redfern-Allen's research focus will be Diabetes mellitus, a common endocrine disease of dogs and humans. In humans it has been shown that imbalances in gastrointestinal bacteria are associated with Diabetes mellitus, and can contribute to high blood sugar concentrations by antagonizing the effects of insulin.

The short-term aims of her study are to compare the fecal microbiota in healthy dogs with those in diabetic patients to see if significant differences exist in microbial composition between dog groups. Additionally, Dr. Redfern-Allen will evaluate the potential efficacy of probiotics in modulating gut microbial populations to a more favorable composition that improves the effectiveness of administered insulin.

Learn more about the AKC Canine Health Foundation Clinician-Scientist Fellowship Program and Adopt a Researcher.
Help Future Generations of Dogs
Participate in canine health research by providing samples or by enrolling in a clinical trial. Samples are needed from healthy dogs and dogs affected by specific diseases.