Impact Stories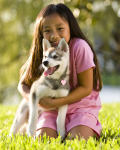 In science, progress is measured in small steps along the way to major discoveries. By consistently funding the most innovative research, the AKC Canine Health Foundation is realizing both small milestones and major breakthroughs in canine health. Your support helps us progress towards our goal to prevent, treat and cure canine disease.
An international research team led by scientists at the Broad Institute of MIT and Harvard announced the completion of a high-quality genome sequence of the domestic dog. Funded in part by grants from the AKC Canine Health Foundation, the genome sequence provides a catalog of 2.5 million specific genetic differences across several dog breeds.
With funding from the AKC Canine Health Foundation (CHF), the laboratory of Dr. Matthew Breen has developed a canine cancer cytogenetics 'toolbox' that allows the presence of chromosome changes associated with canine cancers to be evaluated.
This article is about the discovery of the first genes responsible for two rare forms of epilepsy in dogs.
Help Future Generations of Dogs
Participate in canine health research by providing samples or by enrolling in a clinical trial. Samples are needed from healthy dogs and dogs affected by specific diseases.