Shelby Gasson, DVM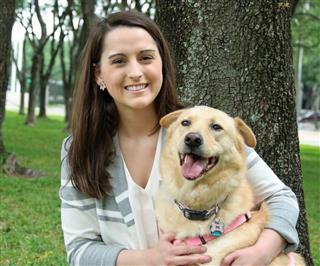 Dr. Gasson received her bachelor's degree in Biomedical Science as well as her Doctor of Veterinary Medicine from Texas A&M University. Upon graduation from veterinary school, Dr. Gasson completed a rotating small animal internship at Red Bank Veterinary Hospital in New Jersey. Dr. Gasson is now pursuing a PhD in Biomedical Science at Texas A&M University and hopes to pursue a small animal surgical residency following completion of graduate school.
She is this year's AKC Canine Health Foundation GCHP Hill Country's Let's Get Ready To Rumble "Rumble" Clinician-Scientist Fellow (akcchf.org/rumble).
Dr. Gasson's research project will focus on the development of tissue engineering constructs in combination with canine mesenchymal stem cells (MSCs) for treatment of osteochondral defects (small cartilage injuries). Osteochondral defects are a common problem and leading cause of lameness, arthritis, and morbidity in dogs. Dr. Gasson's long-term goals are to continue developing regenerative therapies for treatment of challenging orthopedic conditions in dogs as a clinician scientist.
Dr. Gasson's mentor, Dr. Saunders, has been a CHF-Funded investigator studying the area of regenerative medicine. Read more about his research:
02078: Development of a Regenerative Medicine Technique to Treat Cartilage Disorders in Dogs
Help Future Generations of Dogs
Participate in canine health research by providing samples or by enrolling in a clinical trial. Samples are needed from healthy dogs and dogs affected by specific diseases.