New Pathogenic Role for an Old Virus
10/23/2009
Intriguing developments in canine genetic and health research presented by experts made last fall's AKC Canine Health Foundation National Parent Club Canine Health Conference one of the best ever. The seventh biennial conference, sponsored by Purina, provided insights and led to thought-provoking discussions among parent club health liaisons and researchers, among them a presentation about canine herpesvirus.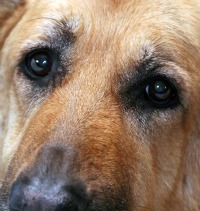 Recognized since the 1960s as a cause of puppy fading syndrome, canine herpesvirus-1 (CHV-1) causes severe systemic infection and disease in fetal and newborn puppies and is almost always fatal. Though breeders rightfully worry when CHV-1 occurs in pregnant dams and puppies, little concern has been given for adult dogs affected by the virus.
"In mature dogs with CHV-1 infection, the influence of the virus was initially thought to be subclinical," says Eric Ledbetter, D.V.M., DACVO, assistant professor of ophthalmology at Cornell University College of Veterinary Medicine. "While it had been demonstrated that latent CHV-1 could be reactivated by stress and corticosteroid administration, diseases associated with this virus reactivation were not known to occur. Thus, it wasn't perceived as a problem."
Though researchers have known since the 1960s that fetal and neonatal dogs with CHV-1 infection also have ocular disease, the clinical correlation was considered insignificant since puppies nearly always died from CHV-1. Never mind that adult dogs with CHV-1 often exhibited idiopathic ocular diseases, such as ulcerative keratitis (corneal ulcers) and conjunctivitis (pink eye).
A link between ocular disease and CHV-1 was established in 2006 in two confirmed cases and later validated in a colony of breeding Beagles. The discovery of the new clinical effects of CHV-1 is changing not only treatment for the virus but also leading to future research of the decades-old virus.
"The first case that linked CHV-1 and ocular disease was an 8-year-old castrated male Labrador Retriever that had experienced eye spasms and excess tearing for about 24 hours," Ledbetter says. "The dog was diabetic and was receiving glaucoma medication. He had corneal ulcerations in both eyes.
"The second case was a 7-year-old spayed female Miniature Schnauzer that had been squinting in both eyes for about a day and had a two-month history of immune-mediated thrombocytopenia, or immune destruction of blood platelets. She also had a four-week history of dry eye that was being treated with antibiotic ointment and eye drops. This dog also had corneal ulcerations in both eyes."
Testing of both dogs showed active CHV-1 from blood work and corneal samples. "At first we thought this was a new strain or a new variation of CHV-1, but after viral identification was confirmed through testing that included gene sequencing and electron microscopy, we realized it was the same virus we knew from the 1960s. In fact, we believe it's been around for thousands of years in dogs."
Not long afterward, Ledbetter was consulted about an outbreak of ocular disease in the colony of breeding Beagles. He and his team performed complete ophthalmic scans and took ocular samples, which led to a definite determination that CHV-1 causes ocular lesions in adult dogs. "All the dogs had bilateral conjunctivitis, 26 percent had ulcerative keratitis, and 19 percent had non-ulcerative keratitis," says Ledbetter. "CHV-1 was detected in all dogs sampled.
"The virological survey of conjunctivitis in the Beagle population provided the information we needed to conclude that CHV-1 is associated with outbreaks of highly contagious ocular infection in susceptible dog populations," he continues.
The link between canine herpesvirus-1 and ocular disease has raised many questions for researchers. Among them, Ledbetter plans to investigate:
The prevalence and spectrum of ocular disorders attributable to CHV-1 in both immune-competent and immune-suppressed mature dogs;
Identification of triggers for latent infection reactivation;
Characterization of CHV-1 shedding in mature dogs and its role in disseminating the virus;
Clinical trials of antiviral medications for treatment of CHV-1 diseases; and
Development and evaluation of vaccines for prevention of primary and recurrent CHV-1 infection.
This article originally appeared in Today's Breeder, a Nestlé Purina Publication Dedicated to the Needs of Canine Enthusiasts.
Help Future Generations of Dogs
Participate in canine health research by providing samples or by enrolling in a clinical trial. Samples are needed from healthy dogs and dogs affected by specific diseases.