K9 College Raises $6,000 for Canine Health
05/10/2011
The K9 College Cruise returned from its 7th annual sailing earlier this year with another donation for the AKC Canine Health Foundation. This year, the K9 College raised $6,000 for CHF. Over the past two years, the K9 College has raised $14,000 for the Foundation, and the 2012 cruise will once again feature an event benefiting CHF.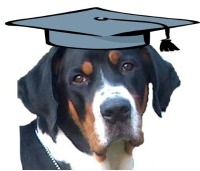 The K9 College Cruise is a premier educational experience for serious dog fanciers. Each year, the K9 College sails to different tropical ports of call with a faculty of world-class speakers on-board. K9 cruisers from all part of the world come to soak up the latest in canine knowledge, along with some tropical sun. Additionally, K9 cruisers have the opportunity to discuss their individual concerns with faculty members throughout the week and enjoy meeting and mingling with fellow dog fanciers.
The K9 College Cruise is sponsored by the Lancaster Kennel Club of Lancaster, Pennsylvania, Nestlé Purina, and Dog Show Judges, a global directory of dog show judges.
This year's seminars offered something for everyone from serious breeders to fly ball enthusiasts. The faculty consisted of Dr. Carmen Battaglia presenting "Breeding Better Dogs"; Dr. Jill Cline on nutrition and immunology; Lisa Curry on law for dogs; Pat Hastings' presenting "K-9 Structure in Action" and "Tricks of the Trade"; Dr. Robert Van Hutchinson on reproduction and pediatrics; Dr. Anita Oberbauer on genetics; Mary Ray on obedience, agility and fly ball; and Turid Rugaas on the emotional lives of dogs.
The grand finale to the week of activities is the Dog Show at Sea, an event the K9 College uses as a fundraiser to benefit the AKC Canine Health Foundation. Cruisers submit photos of their dogs that are displayed on the ship throughout the week. Everyone votes (with cash) for their favorite dog for the coveted title of BIS (Best In Ship). The BIS winner has the honor of choosing the CHF research project to receive the proceeds from the event. This year, the proceeds were directed to research for canine allergies.
Next year, the K9 College Cruise will sail from Ft. Lauderdale, March 11-18, aboard Holland America, with ports of call at Half Moon Cay, San Juan, St. Maarten, and Grand Turk.
Reservations for the 2012 cruise are currently being accepted. Another world-class faculty of speakers will be on-board again to present canine seminars including Dr. Deborah Greco (Endocrinology), Pat Hastings (Structure), Dr. Robert Van Hutchison (Reproduction and Pediatrics), Dr. Ron Schultz (Immunology), and more.
For more information visit www.k9collegecruise.com or email ktmarkley@comcast.net
This story was adapted from an article by Cathy Cooper, GSMD Breeder and AKC Judge.
Help Future Generations of Dogs
Participate in canine health research by providing samples or by enrolling in a clinical trial. Samples are needed from healthy dogs and dogs affected by specific diseases.