AKC Canine Health Foundation Celebrates Donors and Milestones in Canine Health at Canines & Cocktails Gala
01/12/2017
The AKC Canine Health Foundation (CHF), a nonprofit organization whose mission is to prevent, treat and cure diseases in all dogs, celebrated their donors and the many milestones made in canine health research this year at the 6th annual Canines & Cocktails gala on December 15, 2016 at the Rosen Centre Hotel in Orlando, FL.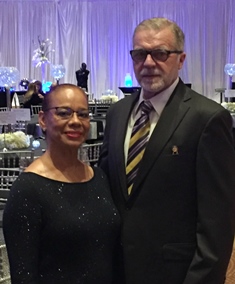 Sponsored by The Canine Chronicle and event chairpersons Dr. and Mrs. William Truesdale, more than 400 tickets were sold and over $60,000 raised to help further the Foundation's mission. Guests dined on heavy hors d'oeuvres, danced to live music by the Gypsy Lane Band, and took a chance at winning one of three raffle prizes donated by Originals by Omar, the Hunting Horn Jeweler, and Cindy and David Vogels.
The American Kennel Club (AKC) was honored with the 2016 President's Award in recognition of their long-standing support of the Foundation. As the founding organization of CHF in 1995, the AKC has donated over $23 million in financial support and in-kind services to further the mission of the Foundation, helping keep operating expenses low and maximizing the dollars the Foundation puts toward cutting-edge research. The President's Award is given annually to a person or organization that has made an exceptional contribution to advancing canine health.
The 2016 Distinguished Research Partner Award was presented to the English Springer Spaniel Field Trial Association and the English Springer Spaniel Foundation for their ongoing support to fund research to benefit all dogs. Most recently these organizations worked collaboratively to donate more than $50,000 to CHF's Tick-Borne Disease Initiative, making them the first Champion level sponsors of this Initiative.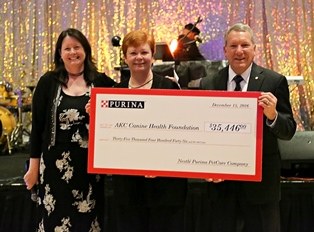 Nestlé Purina PetCare Company presented the Foundation with a check for more than $35,000. The contribution was a result of 35,446 original posts that were shared by dog owners on social media in November about why and how they are thankful for their dogs as part of Purina's #DogThanking campaign.
"We were thrilled to see so many supporters of canine health research in one room celebrating the progress made this year against canine cancer, tick-borne diseases and so much more," said Dr. Diane Brown, CHF CEO. "CHF is grateful to the many individuals, corporations, dog clubs and foundations for their tireless support of the Foundation."
Help Future Generations of Dogs
Participate in canine health research by providing samples or by enrolling in a clinical trial. Samples are needed from healthy dogs and dogs affected by specific diseases.