Meet CHF Board Member & Trailblazer, Ann Viklund
12/01/2016
By Sue M. Copeland


AKC Canine Health Foundation Board Member Ann Viklund has shattered a glass ceiling! Ann, whose "real job" is Director—Conformation, Professional Engagement Team at Nestle Purina PetCare, was asked to join the prestigious (and previously male-only) Kennel Club of Philadelphia—the first female member in its 140-year history.
"I was surprised and delighted when Wayne Ferguson, the president, called and asked me if I would be interested in becoming a member of the club," says Ann.
"The Kennel Club of Philadelphia's dog show was one of the first events I went to in 1997, when I joined Purina," she continues. "I love that show, and have been going ever since! So I have a lot of history with them. The Club is near and dear to my heart."
In 2001, the National Dog Show, presented by Purina, was born. This telecast has become a beloved Thanksgiving tradition for many families, and is another point of connection with the kennel club for Ann. It is featured on NBC after the Macy's Thanksgiving Day Parade, and is viewed by about 26 million people.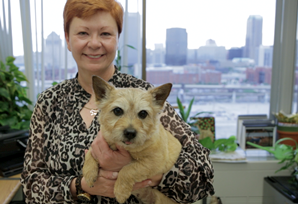 Always A Trailblazer
This is not Ann's first foray into a male-dominated domain. A horse-crazy kid, she got a job as a racetrack groom at Fairmount Park in Illinois while in college.
"There were very few women grooms at that time," she says. "It was a hard, time-consuming job. But I loved it, and I loved working with the horses."
There were also few, if any, woman jockeys or trainers at that racetrack back then. Ann decided to change that.
"When I graduated from college," she recalls, "I decided to be a racehorse trainer. Unfortunately, I promptly went broke!"
But the guys who ran the racetrack had taken note of her hard work and dedication.
"I was offered a job as a track administrator and 'placing judge,' which entails watching for such offenses as interference in a race, then reporting any incidents to the track stewards," she says.
While proving herself in those capacities, Ann set her sights higher. Her new goal: to be a racing steward. Sure enough, with time, dedication, and hard work, she made it happen.
"It was a fascinating job. My role as steward was to interpret and enforce the rules of racing as a member of a three-person panel. I served that role in both harness and Thoroughbred races," she says. "I was the only woman in the country at that time to do both."
Racetrack stewarding remains a male-dominated world. "To function there, I had to blaze my own trail," Ann explains. "I just did my job well, and was respectful to others. In turn, I was respected."
She also brought a "boot-strap" perspective to her stewarding. "I'd had to work my way from the ground up," she says. "I was able to bring not only a female perspective, but also an ability to relate to the trainers and jockeys we were dealing with, who'd had to work their ways up in that world, too. They knew I'd worked hard to become a steward, and they appreciated that."
Back to the Future
Ann's transition from the racetrack to the dog-show world was a natural one. While she was working at the track, she and her husband, Max, operated Berry Ridge Kennel, in Coulterville, Illinois. Max is a professional retriever trainer, and the couple bred field Labrador Retrievers.
Then in 1997, a coworker brought Ann a Purina job post he'd gotten from his daughter. He thought Max might be interested in a job as a field representative. As fate would have it, Max wasn't interested. But Ann was.
"I'd basically gone as far as I could go in the racing world, and was looking for a new challenge," she recalls. "Max and I were very familiar with Purina, because it's what we had always fed our dogs at the kennel. I was already a huge advocate, and that was the reason I decided to join the company."
Once she joined Purina, Ann once again had to blaze her own trail. "When I started, I didn't know one soul in the conformation dog-show world," she recalls. "I was told to pick some shows to go to. I just had to go with my gut."
Purina wasn't sponsoring events at that time, just attending them. But as Ann met more people at dog shows, the out-reach effort became more sophisticated. "I now have nine people on my team," she says. "We have way more reach!"
Purina also now sponsors many top shows, both all-breed and national specialties, a number of which are held at the Purina Event Center in Gray Summit, MO, another project that Ann had a significant role in bringing to life.
In her "spare time," Ann gives her time to the AKC Canine Health Foundation. She's served on the Board for about three years, currently in the role of Board Secretary and additionally as a member of the Executive Committee. "The Foundation dovetails so well with Purina," she says. "We both want dogs to live long, happy, healthy lives." Purina has been a corporate sponsor to the AKC Canine Health Foundation (CHF) for the past 18 years, providing more than $13.5 million to support canine health research through CHF's scientific programs. According to Dr. Diane Brown, chief executive officer of CHF, "What Ann brings to her role on our Board of Directors is wisdom with a quiet confidence, and a unique ability to listen and provide sound guidance. She has opened doors and made introductions, and is a true positive role model for our staff, and for me personally."
Ann will also bring her hard work and dedication to the Kennel Club of Philadelphia, as she blazes her next trail there.
"I've been immersed in the conformation side of dog shows through Purina," she says. "But I come from the world of field dogs, so I can bring a broad perspective.
"I will be a fully engaged Board Member," she continues. "I believe that they invited me to join because of what I can bring to the table, gender aside. There are a lot of qualified people out there that they could have chosen. I'm thrilled they chose me."
Help Future Generations of Dogs
Participate in canine health research by providing samples or by enrolling in a clinical trial. Samples are needed from healthy dogs and dogs affected by specific diseases.