The Continued Threat of Leptospirosis
05/17/2019
Author:
Sharon M. Albright, DVM, CCRT
Leptospirosis, often referred to as lepto, is a zoonotic disease affecting humans and animals. It is caused by numerous serovars of bacteria in the genus Leptospira. Leptospirosis is spread through contaminated water such as stagnant puddles and ponds frequented by infected wildlife. Outbreaks of leptospirosis have been reported after natural disasters such as floods and hurricanes where large amounts of standing water serve as a source of contamination. Even the thaw of snow or heavy rains can wash contaminated animal urine into streams and other bodies of water. In humans, leptospirosis can cause many symptoms such as fever, headache, vomiting, jaundice (yellow skin and eyes), abdominal pain, diarrhea, and rash. Infected dogs can also show a variety of symptoms, but the most common clinical presentation involves symptoms secondary to liver and kidney failure such as lethargy, anorexia, vomiting, abdominal pain, and excessive thirst and urination. If caught early, the disease is treatable with antibiotics. However, the prognosis is worse for animals with severe organ dysfunction.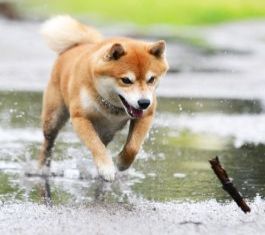 The AKC Canine Health Foundation (CHF) and its donors remain committed to improving our understanding of leptospirosis in order to develop more accurate tests and more effective treatment and prevention strategies. With funding from Grant 02380-A, researchers are studying the prevalence and risk factors for Leptospirosis in North American dogs. Data from the United States between 2009-2016 shows that more dogs tested positive for exposure to leptospirosis in the Midwest and South-Central regions and that test-positive prevalence peaked in the fall season. Factors such as temperature, precipitation, and age and sex of the dog were all implicated in a dog's risk of testing positive for this disease. Research is ongoing, but preliminary results were shared in these Ohio State University poster presentations.

To understand why some dogs experience life-threatening illness after infection with leptospirosis, while others experience only mild disease or remain asymptomatic carriers of the bacteria, investigators are also examining the canine innate immune response to this infection with funding from CHF Grant 02461-A. Knowing how the dog's own immune cells react to leptospirosis infection may help us develop new and better options for treatment and prevention.

The following educational resources are available to help dog owners stay informed about the risks of leptospirosis:


With the help of our donors and corporate partners such as AKC Reunite, CHF will continue to research leptospirosis in dogs. As North America's largest not-for-profit pet ID and recovery service, AKC Reunite has contributed to the fight against leptospirosis and other infectious diseases that are on the rise in dogs concurrent with natural disasters with their recent support of canine health research. Protect your family and dogs by staying informed about leptospirosis risks, symptoms, and research; work with your veterinarian to develop an appropriate prevention strategy; and support canine health research at www.akcchf.org.
Help Future Generations of Dogs
Participate in canine health research by providing samples or by enrolling in a clinical trial. Samples are needed from healthy dogs and dogs affected by specific diseases.