CHF-Funded Researcher Receives US Flag Flown in Afghanistan
03/09/2012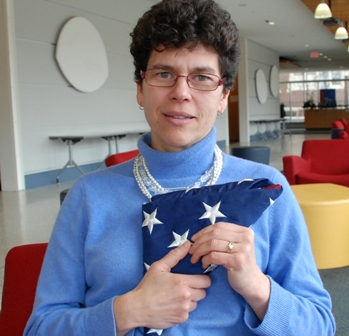 AKC Canine Health Foundation (CHF) funded researcher Cindy Otto, DVM, Ph.D., of the University of Pennsylvania was presented with an American flag flown in Afghanistan in recognition of her commitment to the health of working dogs.
The flag was presented to Dr. Otto by Major Janice L. Baker, U.S. Army Veterinary Corps. While Major Baker could not provide the specifics of the mission under which the flag was flown, she informed Dr. Otto that they "carried this flag and displayed it proudly over some of the most hostile areas of the country in support of missions utilizing military working dogs, in honor of you and your colleagues, who are dedicated to the medicine, research and promotion of health of working dogs."
Military working dogs serve a variety of vital roles in the U.S. Armed Forces, and their service to our county is immeasurable. Dr. Otto deeply understands the contribution of these canine soldiers and working dogs in general, as she has committed much of her research career to monitoring the health and well-being of urban search and rescue dogs. Her CHF-funded research has given her the expertise to be a valuable consultant to the military and has provided important information that impacts the care of all working dogs.
Otto said, "This is a tremendous honor, and I am deeply appreciative of the opportunity that I have had to contribute to the health of these and all canine heroes. I look forward to promoting the health and well-being of working dogs through ongoing research at the Penn Vet Working Dog Center and through the support of the CHF and all organizations that have the appreciation of the important contribution that these dogs make to society."
"We are proud of Dr. Otto's commitment to working dogs and the insight her research provides the U.S. Armed Forces," said Terry T. Warren, Chief Executive Officer and General Counsel of CHF. "The AKC Canine Health Foundation is committed to advancing the health of all dogs and ensuring that we care for working dogs to the best of our ability is an integral part of our mission."
Help Future Generations of Dogs
Participate in canine health research by providing samples or by enrolling in a clinical trial. Samples are needed from healthy dogs and dogs affected by specific diseases.