Weekend Companion Turned Seizure Alert Dog and Dock Diving Champ
07/01/2013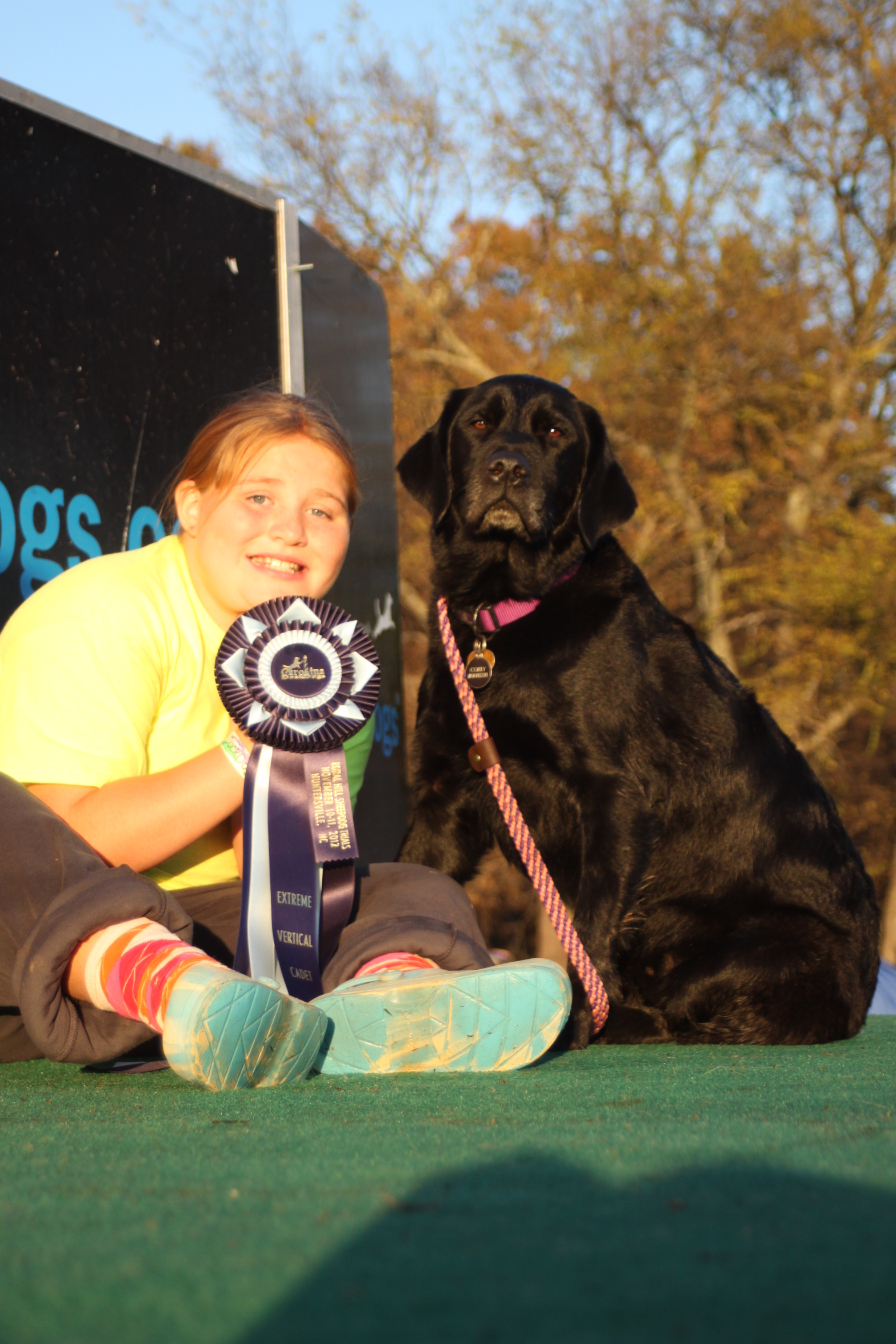 Corey is a happy-go-lucky 5-year-old black Labrador Retriever and Golden Retriever mix. Corey was trained as a guide dog through the Vision Program, one of the many innovative inmate training programs in the United States. Through the Vision Program, dogs are placed with prison inmates and the inmate is responsible for the training and daily care of the dog. The programs are a successful collaborative and the inmates take their responsibility very seriously. On the weekends, the dogs live with volunteer families who can expose them to public places like grocery stores and malls, as well as help them acclimate to a home environment. Robin Hentz, of Decatur, GA, was one of the volunteers who fostered Corey on the weekends. "I couldn't commit to having a dog full-time so I started volunteering with the Vision Program, and that's how we met Corey."
Catherine Hentz is Robin's 11-year-old daughter. At four years old Catherine was diagnosed with epilepsy. Catherine's seizures typically occur at night and they are frightening for the whole family. In an effort to comfort Catherine she started sleeping in her parent's bed. One night Robin was awakened by Corey tossing and turning in his crate, which was in her bedroom. Eventually, Corey began barking. "It was about his third or fourth weekend with us and I had not heard him bark, because as a general rule, guide dogs are taught not to bark," said Robin. "He had never woken me up on other weekends, and I thought, this puppy needs to go to the bathroom." Robin took Corey out and returned him to his crate. Robin had kept the light off in her bedroom and turned it on to check on Catherine. It was then that she realized Catherine was having a seizure. A few weekends later, the same thing happened – Corey was restless in his crate and Catherine was having a seizure. "I didn't make the connection at first," said Robin, "but it became clear that Corey was alerting us to Catherine's seizures."
Epilepsy is a neurological disorder that affects dogs and humans. Canine Health Foundation (CHF) funded-researchers, through further studies into this disorder, hope to better understand the causes and improve treatments. While the CHF-funded studies will involve dogs, the work will undoubtedly impact human medicine, benefiting people like Catherine who have been diagnosed with epilepsy.
Corey continued in his training to become a guide dog, staying with the Hentz family on the weekends for about six months. Catherine, who was having at least one seizure a week in her sleep and small episodes during the day, was managing her epilepsy with a larger dose of medication, and was put on a waiting list for a seizure alert dog.
As Corey's training progressed and became more intense, his time with the Hentz family decreased. About four months after they had last volunteered with Corey, Robin received a phone call from the trainer in charge of the Vision Project. According to Hentz, Corey was suffering from stress allergies, and he was going to be released from the program. Would the Hentz's be interested in adopting him? "We couldn't get to New York fast enough to pick him up," said Robin. While Corey had no formal training as a seizure alert dog, the Hentz family knew from their time with him that he was a perfect match for Catherine. "Corey had already been trained in obedience and had his canine good citizen, so we knew Corey and Catherine just needed further bonding."
In the summer of 2011 when the Hentz family was on vacation in Canada, Corey did a lot of jumping off the dock into the lake. "Corey loves water and Catherine is a swimmer, so this was one more way they bonded," said Robin. Shortly after returning home to Georgia, Robin took Corey to a program at Canine Ranch, a local training facility for dock diving teams. "I didn't know anything about dock diving as a sport or competition," said Robin. Dock Diving ended up being a perfect fit for Catherine and Corey, and further cemented their bond. "I was better at it as a handler than my mom was, and two weeks after we took Corey to Canine Ranch we entered a competition and took second place!" said Catherine.
And so Team Brainwaves was born. Catherine and Corey participate and compete in all three dock diving events – big air, where the dog jumps out into a pool to retrieve a bumper and the length of his jump off the dock is recorded; speed retrieve is a timed event where dogs retrieve a bumper at the far end of a pool; and extreme vertical, where the dog jumps vertically into the air and the height of his jump is measured. Catherine is particularly proud of their accomplishments in extreme vertical. Catherine taught Corey how to do this event and they have been working to increase Corey's jump height. Their personal best is currently 5'6". Catherine is one of the few youth handlers to participate in this event. In fact, she and Corey have been so successful that they have been invited to the Dock Dogs World Championship to participate in Extreme Vertical.
While Catherine continues to serve as Corey's exclusive handler at all dock diving events, the whole family participates in making sure Corey is healthy and able to compete in his events. "In addition to lots of exposure to water, there's a lot of dry land conditioning," said Robin. "Adam, Catherine's dad, takes Corey on regular runs. I take Corey to a local dog park with hills. And everyone spends a lot of time playing fetch with Corey, which helps in the speed retrieve competitions." Corey also recently lost five pounds in order to keep him as trim and healthy as possible for his extreme vertical competition. Corey is seen regularly by a veterinarian, but besides a few broken nails, Corey has remained injury free.
Maintaining the overall health of an active dog is a priority for CHF. CHF understands that active dogs may participate in events like Dock Diving, agility or field trials, but they may also be a loyal companion on a morning run, or a best friend who never tires playing fetch. Through the Canine Athlete Initiative (CAI), CHF is leading the way in the field of canine sports medicine research, ensuring that dogs are able to stay healthy and active through proper conditioning, diet, exercise, and if necessary, rehabilitation. Catherine says the best part of participating in Dock Diving events is having the opportunity to "see your dog having fun. I don't like seeing dogs left at home, not getting exercise."
Robin marvels at the person Catherine has become. "Before Corey came into our lives, Catherine was quiet and felt different because of her epilepsy. Dock Diving has opened Catherine up and it's been a confidence builder." That confidence, according to Robin, has translated to school and has helped Catherine become a leader in local Dock Diving circles. "Catherine will speak with anyone about Dock Diving. In addition to participating in events, she loves to volunteer, and she's helped teach others about the sport." Catherine and Corey were recently voted "Most Inspiring" team by the entire Dock Diving community and Catherine was voted Youth Handler of the Year for 2011 and 2012 by Dixie Dock Dogs.
Catherine, according to Robin, has been seizure-free for nearly a year. Corey has provided the Hentz family with so much more than peace-of-mind. They've not only added a new member to their family, but they've been able to watch Catherine become independent, and they've found a routine of normalcy that benefits everyone. When asked what Corey means to her, Catherine simply responds, "I love him. He's my best friend."
Related Articles
Help Future Generations of Dogs
Participate in canine health research by providing samples or by enrolling in a clinical trial. Samples are needed from healthy dogs and dogs affected by specific diseases.