Gene therapy for osteosarcoma – what's next?
08/24/2011
by Jaime F. Modiano, V.M.D., Ph.D., Department of Veterinary Clinical Sciences, College of Veterinary Medicine, and Masonic Cancer Center
Animal Cancer Care and Research (ACCR) members from the University of Minnesota were key participants in a recently completed clinical trial testing a gene therapy approach to treat canine osteosarcoma. This trial, supported through grants from the National Cancer Institute of the National Institutes of Health and the AKC Canine Health Foundation, was meant to define the safety, efficacy, and mechanisms of Fasaret®, a formulation for the Fas ligand gene expressed in a viral vector and produced by ApopLogic Pharmaceuticals, Inc.*
Fas ligand is a protein that is normally made by cells of the immune system. It is the prototypical member of a family of proteins that promote "programmed death" (also called programmed suicide or apoptosis) of unwanted cells. However, Fas ligand has a variety of other functions, many of which are not fully understood. Scientists at ApopLogic, including the author,had shown that this therapy was safe and effective to treat tumors in laboratory animal models, so it was time to take a leap forward and translate it to the clinic. Translation was a large project that involved board-certified veterinary surgeons, veterinary medical oncologists, veterinary radiologists, veterinary pathologists, veterinary nurses, clinical coordinators, immunologists, statisticians, and exceptional scientific and technical support staff from four institutions at a cost of over $1 million.
The results of the trial were reported to the scientific community in May 2011 at the 98th Annual Meeting of the American Association of Immunologists in San Francisco, California.
Fifty-six dogs were enrolled. The results showed the dosing schedule used in the trial was safe. Moreover, they highlighted mechanisms through which this therapy would improve outcome for bone cancer patients. Next steps for this therapy are validation in community-based trials, and possibly its application to other types of cancer. Visit the CVM Clinical Investigation Center website at www.cvm.umn.edu/cic/ for more updates on results of this trial and next steps, as well as for applications to enroll dogs in other clinical trials, or to make a contribution to support this research.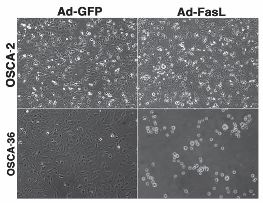 Osteosarcoma cells can be infected with adenovirus vectors with high efficiency. When this method is used to deliver the Fas ligand (FasL) gene, some tumor cells are highly susceptible to its death-promoting effects, while others are resistant. The images show two osteosarcoma cell lines, OSCA-2 and OSCA-36, infected with a control adenovirus encoding a green fluorescent protein (Ad-GFP) gene or the therapeutic adenovirus encoding the FasL gene (Ad-FasL). The adenovirus itself has no negative effects on cell viability or growth, as shown by the presence of healthy cells infected with Ad-GFP. OSCA-2 cells were similarly unaffected by infection with Ad-FasL, whereas OSCA-36 cells all were killed (through the effects of FasL) after infection with Ad-FasL. One question that this project sought to answer was whether there was a relationship between the susceptibility of the tumor cells to FasL-mediated death and the patient's response to therapy.
Image and caption reprinted from Modiano et al, "Naturally Occurring Translational Models for Development of Cancer Gene Therapy." Gene Therapy and Molecular Biology, vol. 10,pp. 31-40, 2006.
This article is reprinted with permission from the University of Minnesota. It originally appears in the Summer 2011 Issue of Synergy the newsletter of the Animal Cancer Care and Research Program.
* Dr. Modiano holds an equity interest in and serves as a consultant for ApopLogic Pharmaceuticals, Inc., the developer of Fasaret, a product that was the subject of the research described in this report. These relationships have been reviewed and managed by the University of Minnesota in accordance with its conflict of interest policies.
Help Future Generations of Dogs
Participate in canine health research by providing samples or by enrolling in a clinical trial. Samples are needed from healthy dogs and dogs affected by specific diseases.