Guillaume L. Hoareau, DVM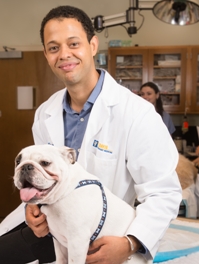 Dr. Guillaume L. Hoareau is the 2013 AKC Canine Health Foundation Clinician-Scientist Fellow from the University of California, Davis.
Dr. Hoareau earned his Doctorate of Veterinary Medicine degree from the National Veterinary School of Toulouse in France in 2008. After completing an internship at the University of Pennsylvannia, Dr. Hoareau began a Residency in Small Animal Emergency and Critical Care at the University of California, Davis.
While at the University of California, Davis, Dr. Hoareau has received funding from the AKC Canine Health Foundation to study comparison of cellular function in two canine platelet concentrates under the guidance of his mentor Dr. Karl Jandrey. His current work focuses on the clinical management of brachycephalic dogs under the direction of Dr. Matt Mellema.
Dr. Hoareau's work has been published in the Journal of Veterinary Internal Medicine and the Journal of Veterinary Emergency and Critical Care and he is a member of the European Veterinary Emergency and Critical Care Society.
Fellowship Research Project:
The term brachycephalic dog (BD) refers to breeds with short faces and includes Boston terriers, pugs, Bulldogs, and French bulldogs, among others. BD are common household pets in the United States and Bulldogs alone are the 8th most common breed registered with the American Kennel Club. The facial conformation that contributes to the popularity of BD may, when particularly pronounced, make them prone to respiratory problems. Their upper airway shape can make it difficult for them to breathe in deeply or without effort. English bulldogs (or simply Bulldogs) have been used as a spontaneous model of a syndrome known as obstructive sleep apnea syndrome (OSAS) in humans, because they share many anatomical characteristics with people prone to suffering from this condition. It has been well described that people suffering from OSAS are also prone to associated systemic illnesses such as hypertension, chronic lung injury, and increased red blood cell count. Management of BD represents a clinical challenge in many instances including heat stress/heat stroke, increased risk of anesthetic and post-anesthetic crises. Moreover, previously published studies by these investigators have suggested that BD suffer from similar systemic effects as those seen in OSAS in humans. This proposed research project is intended to achieve several important goals: (1) to develop and validate a novel set of minimally-invasive tools for the diagnosis of obstructive sleep apnea syndrome in dogs and for the determination of OSAS severity, (2) to build upon prior work and begin to determine the mechanism underlying the poor lung function, increased blood pressure, and elevated red blood cell counts we have previously reported in these breeds, and (3) create a comprehensive panel of testing procedures that can allow for minimally-invasive assessment of the effectiveness of current and future therapies to alleviate OSAS in brachycephalic dogs.
Learn more about the AKC Canine Health Foundation Clinician-Scientist Fellowship Program and Adopt a Researcher.
Help Future Generations of Dogs
Participate in canine health research by providing samples or by enrolling in a clinical trial. Samples are needed from healthy dogs and dogs affected by specific diseases.