Notice to Genetic Researchers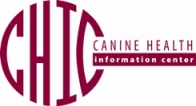 The CHIC DNA Repository has canine DNA samples available to genetic researchers. The CHIC DNA Repository, co-sponsored by the Orthopedic Foundation for Animals and the AKC Canine Health Foundation (CHF), collects and stores canine DNA samples along with corresponding genealogic and updated health information to facilitate future research and testing aimed at reducing the incidence of inherited disease in dogs.
The goals of the CHIC DNA Repository are to:
Facilitate more rapid research progress by expediting the sample collection process
Provide researchers with optimized family groups needed for research
Foster a team environment between breeders/owners and the research community improving the likelihood of genetic discovery
Any genetic researcher may apply to have access to these samples and any CHF funded project is pre-approved this access.
The database for the CHIC DNA Repository has the capability to record the existence of DNA samples located at outside research institutions to assist in collaboration between researchers. CHF requests that the existence of DNA samples collected with CHF funding be submitted to the CHIC DNA Repository upon completion of the research project and publication of the results.
Apply for funding from the AKC Canine Heath Foundation.
Help Future Generations of Dogs
Participate in canine health research by providing samples or by enrolling in a clinical trial. Samples are needed from healthy dogs and dogs affected by specific diseases.