Nestlé Purina PetCare Company Supports Healthy Dogs with $220,000 Donation to the AKC Canine Health Foundation
03/28/2016
RALEIGH, N.C. (March 28, 2016) – The AKC Canine Health Foundation (CHF), a nonprofit organization whose mission is to prevent, treat, and cure diseases in all dogs, is pleased to announce more than $220,000 has been donated by Nestlé Purina PetCare Company to support canine health through the Purina Parent Club Partnership (PPCP) Program.
"The long-standing partnership between Nestlé Purina PetCare and the AKC Canine Health Foundation is a perfect match as we are both passionately committed to the mission of helping dogs live longer, happier lives," said Ann Viklund, Director of Conformation for the Breeder/Enthusiast Group at Nestlé Purina PetCare and a member of the CHF Board of Directors.
More than 190 national parent breed clubs participated in the PPCP Program in 2015, resulting in a contribution of $220,088 to CHF. The donation to CHF represents half of the total 2015 PPCP earnings. An equal donation is shared among the participating parent clubs.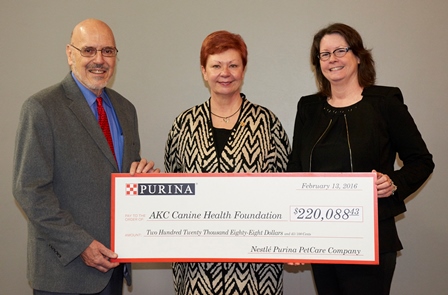 Established in 2002, the PPCP Program enables Purina Pro Club members who participate in the program to designate a breed of dog and submit weight circles (similar to proofs of purchase) from qualifying Purina brand dog foods. An annual donation based on the value of the submitted weight circles is split equally between the national parent clubs' Donor Advised Funds at CHF to support canine health research, and the parent clubs for education, research and rescue efforts.
The PPCP Program has raised more than $3.07 million for canine health research in important areas such as cancer, epilepsy, cruciate ligament rupture, bloat, exercise-induced collapse, tick-borne disease, and more.
The research made possible through the PPCP Program impacts not only the health of specific breeds, but also translates to veterinary and human health more broadly. For example, in 2015, CHF helped fund research resulting in an important new publication that adds to a growing body of evidence to substantiate the genetic and prognostic similarities between human and canine cancer.
Also in 2015, CHF awarded a continuation grant to the University of Pennsylvania School of Veterinary Medicine to complete a long-term medical surveillance study which has, for the past 14 years, monitored the health and behavior of search and rescue dogs deployed following the September 11, 2001 terrorist attacks. Results from this canine study will be important to compare to health studies on the human first responders. Additional research is ongoing across the spectrum of important canine health issues.
Support for these important areas of canine health research is made possible because of the partnership between CHF, Nestlé Purina PetCare, and the parent clubs that participate in the PPCP Program.
In addition to PPCP Program funds, Nestlé Purina also supports the CHF mission with an annual corporate gift of $150,000. Since 1997, Nestlé Purina Petcare Company has invested nearly $12 million in the health of dogs through CHF by supporting canine health research to benefit all dogs.
"The AKC Canine Health Foundation values the partnership we have with Purina," said Dr. Diane Brown, Chief Executive Officer of CHF. "The support we receive goes far beyond the dollar value. Each member of their team truly invests in our shared vision for the well-being of all dogs. With this investment from Purina, we are able to extend our outreach to improve the health of dogs and their human companions."
Help Future Generations of Dogs
Participate in canine health research by providing samples or by enrolling in a clinical trial. Samples are needed from healthy dogs and dogs affected by specific diseases.