2018 Canines & Cocktails
12/13/2018 7:00 PM
Orlando, FL
Rosen Centre Hotel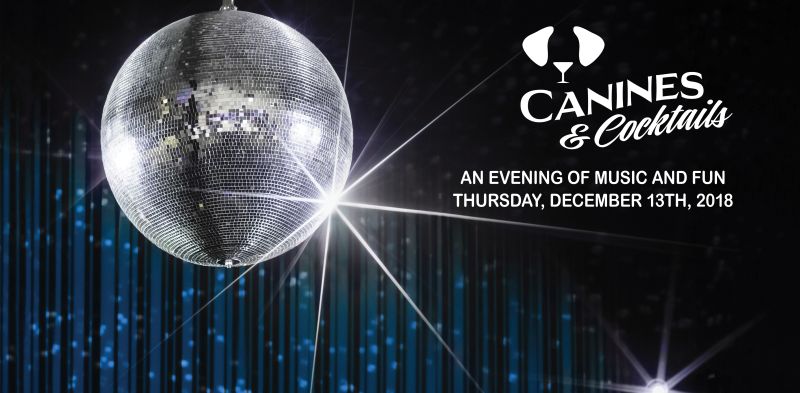 Canines & Cocktails is the Foundation's largest fundraising event, held in conjunction with the AKC National Championship dog show. This year's gala will be on Thursday, December 13th from 7:00 PM – 10:30 PM at the Rosen Centre Hotel. With heavy hors d' oeuvres, raffle, silent auction, live music and dancing, it is sure to be a memorable night!

Advanced ticket sales are no longer available.
Please purchase your tickets at the AKC Canine Health Foundation booth at the Orange County Convention Center
or at the event starting at 6:30pm on Thursday, December 13, 2018.
Sponsors Silent Auction Items Raffle Items
Lead Sponsor

Event Chairs and Presenting Sponsor
Mrs. Tina Truesdale & Dr. William Truesdale
Premier Sponsor
Gayle & Richard Denman
Host Sponsors
Ellen Charles
Dr. William I. Christensen & Kreg B. Hill
Dr. Charles & Lynn Garvin
Dr. John Hamil & Susan LaCroix Hamil
Lake Alfred Animal Hospital
Bruce & Vicki Walsh
Mercedes Vila
Partner Sponsors
AKC Pet Partners
Myrle Hale
Meg Ryan
Col. Nathan T. & Patte Titus
---
Silent Auction
Two Tickets to 2019 Westminster Kennel Club Dog Show
Donated by Westminster Kennel Club
Two Tickets, Lodging and Gift Package for 2020 Morris & Essex Kennel Club Dog Show
Donated by Morris & Essex Kennel Club
Custom Dog Portrait
Donated by Tein Traniello
Two-Page Spread in The Canine Chronicle
Donated by The Canine Chronicle
Cover artwork "Peyton Goes to the Dog Show"
Donated by Martial Robin
$800 Gift Certificate
Donated by Originals by Omar
Unique Piece of Designer Jewelry
Donated by Hunting Horn Jeweler
Six-night Stay in Key Largo Townhome
Donated by The Search Firm
Dog Portrait
Donated by The Winning Image
---
Raffle to Benefit Canine Health
AirBnB Gift Card
Donated by the De La Garza Family
Cabela's Gift Card
Donated by AKC Canine Health Foundation
One 2-night Stay at the Rosen Centre
Donated by Rosen Centre
Beach Portrait Sessions at Jetty Park, FL
Beach Portrait Session at Leu Gardens, FL
Donated by Cason Photography
A Year's Supply of FRONTLINE Gold
Donated by Boehringer Ingelheim
Waterford Crystal Collection & Kate Spade Coasters
Donated by The Lampsons
Decorative Boxes & Leather Book Cover
Donated by The Lampsons
Donations are tax-deductible to the fullest extent of the law. In accordance with IRS regulations, the amount of the charitable contribution is limited to the excess of the amount of cash and/or property contributed by the donor, over the value of any goods or services received by the donor in connection with the contribution. The value of goods and services received at Canines & Cocktails is $35 per ticket. Also, the purchase of raffle tickets is not tax-deductible. For maximum deduction eligibility, please consult your tax advisor. Tax ID# 13-3813813.
Help Future Generations of Dogs
Participate in canine health research by providing samples or by enrolling in a clinical trial. Samples are needed from healthy dogs and dogs affected by specific diseases.