In Memoriam: Monique Arrington
05/19/2016
This past February, Monique Arrington, a 17+ year staff member of the American Kennel Club (AKC), passed away suddenly. As a senior event operations representative at the AKC, Monique worked closely with more than 700 clubs to help process event applications and judge panels. According to Alan Slay, director of event programs at AKC, "Monique served the largest number of clubs in the department and she was an informal leader for those she worked with."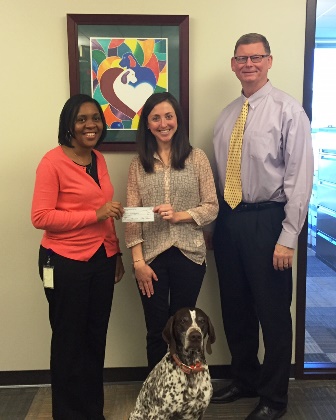 When Sherry Anderson, the treasurer of the Sooner State Kennel Club, learned of Monique's passing, she knew the club wanted to do something special in her honor, "The email about Monique's passing came into my mailbox the day we were having a board and general meeting. That night, the club membership voted to donate $500 to the AKC Canine Health Foundation in Monique's memory. We know she was a huge advocate of this foundation."
Mr. Slay and Tabitha Sheppard, manager of events planning, presented CHF with the check on behalf of the Sooner State Kennel Club.
"We are grateful to the Sooner State Kennel Club for this generous donation in memory of Monique," said Dr. Diane Brown, CHF CEO. "This donation honors Monique and at the same time it helps make a positive impact on the health of dogs."
"Monique was a very special lady who we had the pleasure of working with for over 10 years. She was always gracious and kind no matter the question or need for our shows. She will be missed," said Dr. Carmen Herbel Spears, Sooner Kennel Club show chair.
Help Future Generations of Dogs
Participate in canine health research by providing samples or by enrolling in a clinical trial. Samples are needed from healthy dogs and dogs affected by specific diseases.