GCH Ingebars I Live for the Applause
01/01/2017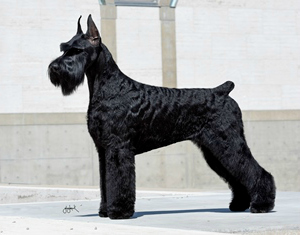 Breed: Giant Schnauzer
Owned by: Chris and Holly Reed; Maryann Bisceglia; Mike Reese
Bred by: Maryann Bisceglia and Mike Reese
Handled by: Alfonso Escobedo and Ashlie Whitmore
Calendar Page Sponsors: Randy and Pam Foster

The AKC Canine Health Foundation (CHF) is an organization that we have proudly supported for more than 10 years. As fanciers of Giant Schnauzers it is important to us that all dogs, not just purebred dogs, are healthy. By supporting CHF we can be sure that our investment in canine health is put to the best use, with researchers looking at genetic causes of disease, as well as health conditions like cancer, epilepsy, and tick-borne disease that can affect any dog. We feel good knowing that our donations are not only helping provide better treatments for dogs, but that many of the research discoveries are also impacting treatments for people diagnosed with similar diseases as well.
Dogs are an important part of our lives and we feel it is our responsibility to contribute to the AKC Canine Health Foundation. We encourage you to join us and make an investment today in the health of our beloved dogs!
Learn more about the participants in the 2017 Champions for Canine Health calendar.
Help Future Generations of Dogs
Participate in canine health research by providing samples or by enrolling in a clinical trial. Samples are needed from healthy dogs and dogs affected by specific diseases.