Dock Diving
Dock diving or dock jumping is the sport of dogs competing to jump the greatest distance or the greatest height from a dock into a pool or other body of water. Some dock diving competitions also include speed retrieves and events combining the three disciplines of height, distance and speed. Normally the dog's handler stands on the dock and throws a toy or "bumper" into the water for the dog to retrieve after jumping.
Dock Diving Organizations
This information is provided to help you get started learning about dock diving. It is not a complete list of dock diving organizations.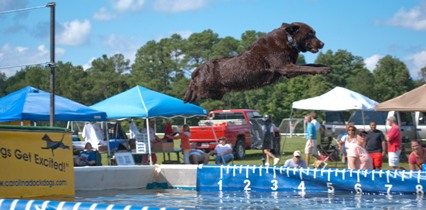 Help Future Generations of Dogs
Participate in canine health research by providing samples or by enrolling in a clinical trial. Samples are needed from healthy dogs and dogs affected by specific diseases.