Disc Dogs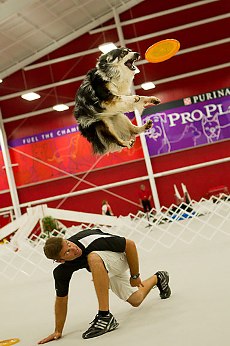 Disc Dogs or Frisbee Dogs compete in judged competitions with a human disc throwing partner. Events include distance catching and choreographed freestyle catching.
Frisbee/Disc Dog Organizations
Skyhoundz
US Disc Dog Nationals (USDDN)
Purina Incredible Dog Challenge
This information is provided to help you get started learning about disc dogs. It is not a complete list of disc dog organizations.
Help Future Generations of Dogs
Participate in canine health research by providing samples or by enrolling in a clinical trial. Samples are needed from healthy dogs and dogs affected by specific diseases.