Samantha Wright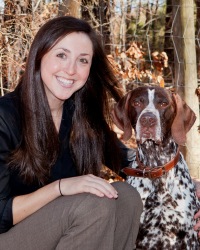 Samantha Wright is the Director of Programs for the AKC Canine Health Foundation. She works with the Chief Scientific Officer to ensure the research and educational programs are efficiently operated with effective communications to all CHF supporters.
Samantha graduated from the University of New Hampshire with a degree in zoology which focused on animal physiology, genetics, and behavior as well as building interdisciplinary skills including communications and education. She worked at EMC Corporation in multiple roles for four years supporting the sales force, managing client relationships, and evaluating sale projections. She is currently working towards her Master of Public Administration degree through Villanova University.
Samantha enjoys hiking, running, and spending time with friends and family; especially her husband, Chris, and their German Shorthaired Pointer, Felton.
Help Future Generations of Dogs
Participate in canine health research by providing samples or by enrolling in a clinical trial. Samples are needed from healthy dogs and dogs affected by specific diseases.