Harvey M. Wooding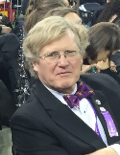 Harvey M. Wooding is a member of the AKC Canine Health Foundation's Board of Directors.
Mr. Wooding is also a board member for both the American Kennel Club (AKC) and the Orthopedic Foundation for Animals (OFA), and is past President of the English Setter Association of America. As a long-time advocate for the health and welfare of all dogs, he was instrumental in changing the CHIC requirements for English Setters to include a screening for thyroid disease. He and his wife, Jane, have run an all-breed health clinic since 2007. The clinic typically attracts 150 dogs and performs 450-500 individual health screening tests.
Help Future Generations of Dogs
Participate in canine health research by providing samples or by enrolling in a clinical trial. Samples are needed from healthy dogs and dogs affected by specific diseases.