Gabrielle Lavelle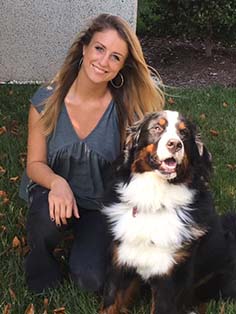 Gabrielle Lavelle is the Development Specialist for the AKC Canine Health Foundation. She is responsible for creating and maintaining constituent records within the donor database, producing and analyzing donor and development reports, creating and mailing donor acknowledgements, and performing gift reconciliations and audits.
Gabrielle graduated from NC State University with a degree in interpersonal, organizational, and rhetorical communication. Her professional background includes work in marketing, market research, and business administration. Gabrielle loves animals, especially cats and dogs, and grew up with many different pets over the years. She is very excited to be working for a non-profit that aids the well-being of canines.
Gabrielle lives in Raleigh and is the oldest of five girls in her family. She enjoys yoga, cycling, spending time with friends and family, and cheering on the NC State Wolfpack.
Help Future Generations of Dogs
Participate in canine health research by providing samples or by enrolling in a clinical trial. Samples are needed from healthy dogs and dogs affected by specific diseases.