Aaron Stepanek, MBS, MPH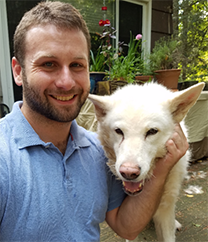 Aaron Stepanek is the Projects Manager for the AKC Canine Health Foundation. He provides executive and Foundation projects support, performs research communications, and undertakes database and outcomes research as well as special projects to advance canine health research.
Aaron received his undergraduate degree from the University of Connecticut, and his master's degrees from Tufts University School of Medicine. He has a scientific background in medical technology and veterinary research, clinical pathology and assay development, budgeting and management, biostatistics and epidemiology, and communications.
Aaron enjoys spending time outdoors, camping, and competing in triathlons. He recently relocated to the Raleigh area from Boston.
Help Future Generations of Dogs
Participate in canine health research by providing samples or by enrolling in a clinical trial. Samples are needed from healthy dogs and dogs affected by specific diseases.